Literary and Cultural activities -I
Literary and Cultural Activities-II
Literary and Cultural Activities-III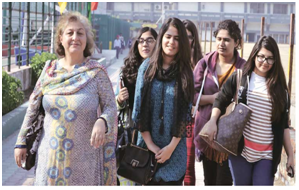 Capturing the Punjabi imagination: drones and "the noble savage"
Myra MacDonald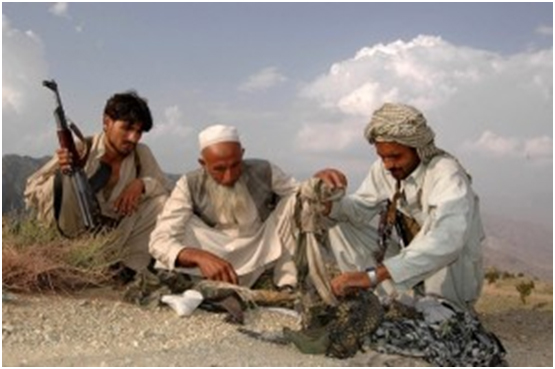 Pakistani novelist Mohsin Hamid may have captured something rather interesting in his short story published this month by The Guardian. And it is not as obvious as it looks.
In "Terminator: Attack of the Drone", Hamid imagines life in Pakistan's tribal areas bordering Afghanistan under constant attack from U.S. drone bombings. His narrator is one of two boys who go out one night to try to attack a drone.
"The machines are huntin' tonight," the narrator says. "There ain't many of us left. Humans I mean. Most people who could do already escaped. Or tried to escape anyways. I don't know what happened to 'em. But we couldn't. Ma lost her leg to a landmine and can't walk. Sometimes she gets outside the cabin with a stick. Mostly she stays in and crawls. The girls do the work. I'm the man now.
"Pa's gone. The machines got him. I didn't see it happen but my uncle came back for me. Took me to see Pa gettin' buried in the ground. There wasn't anythin' of Pa I could see that let me know it was Pa. When the machines get you there ain't much left. Just gristle mixed with rocks, covered in dust."
It is powerful stuff, told in the language of a black American slave in the style of Toni Morrison's "Beloved". It vividly captures the terror inspired by drones, and the helplessness of the people who live in the tribal areas. But is it true? And does it matter?
In a discussion on Twitter, literary critic Faiza S. Khan, who tweets @BhopalHouse, argued that the story should be judged as a work of fiction rather than taken as reportage. A fair point. But what if we turn this around and consider the story as reportage, not of the tribal areas and the drones, but of the way these are imagined in Pakistan's Punjabi heartland? As a writer who spends part of his time in Lahore, capital of Punjab, Hamid can be considered representative of at least part of that Punjabi imagination.
We will return to the short story later, but first step back a bit and consider that the narrative gaining traction, at least in urban Punjab, is that the people of the tribal areas have been radicalised by American drone attacks. Pakistan's rising political star, Imran Khan, attracted tens of thousands to a rally in Lahore last month with a version of this narrative. Stop the drones, and the Tehrik-e-Taliban Pakistan (TTP), or Pakistani Taliban, can be engaged in peace talks to end a wave of bombings across Pakistan.
The simplicity of this narrative is beguiling. At a stroke it taps into the anti-Americanism prevalent in Pakistan and also promises peace. Yet it is incredibly problematic. Bear with me – this is not a defence of drones per se. The use of "machines" to fight a war is disturbing, as indeed is the use of snipers in their capacity for personalised targetting by an unseen hand. Emotionally, I would be far more scared of drones and snipers than I would be of artillery and airstrikes, even if I knew the latter two were more likely to kill me. And nor is it a defence of the way the United States has fought its war in Afghanistan - the risks of the Afghan war going wrong have been obvious from the start to anyone with a knowledge of history. But those are different subjects. This is about how the drone campaign is perceived in mainland Pakistan, and perhaps particularly in Punjab.
The first problem with the narrative is that it slides over the fact that radicalisation in the tribal areas (and Pakistan as a whole) began long before the U.S. drone campaign. Many ascribe it to Pakistani support for the United States in backing the jihad against the Soviet Union after the Russians invaded Afghanistan in 1979. I might go further back, perhaps to the 1973 oil boom when a disproportionate number of Pashtun from the tribal areas went to seek work in the Gulf . The results were twofold – the migrant workers were exposed to the Wahhabi puritanical Saudi Arabian tradition of Islam, and the remittances they sent home upset the traditional balance of power in the local economy. I could go back even further, to the origins of the Pakistani state in 1947 and its use of Islam as a unifying force to counter ethnic nationalism, including Pashtun nationalism. In short – it is complicated. Stopping drones may or may not be a moral imperative, depending on your perspective. But let's not be fooled into thinking that in itself, it will bring peace.
Secondly, the narrative on drone attacks takes at face value assertions that they cause high numbers of civilian casualties. The Americans say they are precise; their critics say they are lying; the rest of us simply don't, and can't, know the truth. With little independent reporting on the Federally Administered Tribal Areas (FATA), we can't possibly verify whether the claims of civilian casualties are accurate. We don't know for sure the numbers of the dead, let alone whether among those dead were Taliban foot soldiers who are also civilians.
What I have noticed however, is that at least some among the Pashtun intelligentsia say the drone strikes are precise, and that opposition to them increases the further away you get from the tribal areas. Earlier this year, a senior Pakistani military officer was quoted as saying that "a majority of those eliminated are terrorists, including foreign terrorist elements". Writer and academic Farhat Taj has taken this argument further by saying that people actually prefer drone strikes to living in fear of the Taliban and their foreign allies.
Now I don't know the truth. I have been to the tribal areas only once, on a one-day army-supervised trip to Bajaur. Incidentally, I was struck by how far the landscape differed from my own Kiplingesque imaginings of "the Frontier". In Bajaur, I saw agricultural prosperity, neatly laid out fields, and mountains which in relative terms (ie compared to Siachen, the Karakoram and even the barren mountains of Scotland) seemed unexpectedly tame. I gather other parts of FATA are wilder, but that Bajaur trip was a lesson for me in how far my imagination (no doubt heavily influenced by colonial literature) was very different from reality. Many Pakistanis never get a chance to visit FATA at all – and so it remains in the Pakistani heartland as much of an imagined frontier as it was under the Raj.
So to get back to the drones, let's for a moment take the prevalent view that Pakistan is fighting "America's war" out of the discussion and consider what the people of FATA themselves think about drone attacks and peace talks with the Taliban. As the people who suffer most at the hands of the Pakistani Taliban, their views - at least from a moral point of view – should predominate in any Pakistani discourse which set itself up as idealistic. What do they say?
This brings me to the most problematic part of the narrative, and loops back into Hamid's short story. In the "stop the drones, win the peace argument", the people of FATA are crucially assumed not to be able to speak for themselves. They are frozen in time in an idealised village life, people who will revert to their ancient traditions as soon as the drones and the Afghan war ends, as though the last 60 years of history never happened. As though not not one of them had ever got on a plane, worked in the Gulf, or migrated to Karachi.
Look at how they are portrayed in Hamid's story (though since I have not asked him, I will concede this may have been an intentional parody of the way the people of FATA are often viewed).
In his story, our characters have no ability to grasp the big world events that have brought the machines to their land. They speak in the language of black American slaves. The narrator's mother is compared to an animal, "snorin' like an old brown bear after a dogfight". Their primitiveness is underlined by the sexualisation of the weapon assembled by the two boys to attack the drone: "We put the he-piece in the she-piece".
They are reduced to the cipher of "the noble savage".
It is true that the people of FATA do not tend to speak for themselves. But given the scale of bombings and assassinations, fear seems to be a more likely explanation than an inability to articulate their thoughts.
And it is also true that they are not even proper citizens. Rather they are subject to the Frontier Crimes Regulation – a draconian colonial-era law which makes them liable to collective punishment, and which is only slowly being reformed by the Pakistani government. The eventual abolition of the FCR, the incorporation of FATA into Pakistan, and other reforms meantto decentralise and accommodate Pakistan's different ethnic groups, would arguably be far more effective in the long run in allowing the country's Punjabi heartland to make peace with the Pashtun in the tribal areas, more even than ending drone strikes.
You will find people who argue you can do both – abolish the FCR and end drone strikes. But how can you tell? How do you make peace with a particular group and work out what suits them best, unless they are represented politically? (Holding peace talks with the Pakistani Taliban is not the same.)
Now reread Hamid's piece and consider the gap between the characters imagined in his short story, and a people with full citizenship rights and political representation. As Fazia S. Khan said, judge it as a work of fiction. But as a window into the Punjabi imagination, it may also have its uses as a political document.

Reported for Reuters on France, Egypt, the European Union and South Asia, and author of "Heights of Madness", a book about the Siachen war between India and Pakistan. Now based in London.
Curtsey:blogs.reuters.com: November 13, 2011
Source Link: http://blogs.reuters.com/pakistan/2011/11/13/capturing-the-punjabi-imagination-drones-and-the-noble-savage/
 'Punjabi Sufi poetry can help fight extremism'
LAHORE
PUNJAB University (PU) Vice Chancellor Prof Dr Mujahid Kamran has said that great Punjabi Sufi poetry is a hidden literary treasure which, through its real humanistic values of peace, brotherhood and human sympathy, can help cultivate a tolerant mindset to counter the scourge of rising extremism in society.
He was addressing participants of the World Punjabi Conference at Sheerani Hall of the Oriental College, organised by the Department of Punjabi Language, Punjab University, at Old Campus on Tuesday. The conference was also addressed by renowned Punjabi writer Fakhar Zaman, Oriental College Principal Prof Dr Mazhar Moeen, Dr Ismat Ullah Zahid and Dr Anjum Rahmani.
Dr Kamran said promotion of Punjabi language was criminally neglected in the past. Notwithstanding the key significance of modern science and technology, promotion of aesthetic sense and values cannot be ensured without the inculcation of love for literature and poetry, he added.
He also announced that soon after the coming summer vacation, a special day would be observed to pay tributes to the famous Sufi poets.
Academy Adbiyat Chairman Fakhar Zaman said Punjabi had the biggest literature after Arabic particularly its folk literature. He advised the Punjabi poets and writers to give up reactionary attitude and adopt enlightened and progressive thinking to enlarge its linguistic frontiers. He also stressed for inclusion of Sufism as compulsory subject in academic syllabus. Punjabi Department Head Prof Dr Ismat Ullah Zahid said Punjabi language was spoken by millions of people within and outside the country but still its development had been grossly neglected.
Curtsey:The News, Wednesday, May 05, 2010

Call to include Sufism in syllabi
LAHORE: World Punjabi Congress Chairman Fakhar Zaman has urged the Punjab government to include a compulsory paper on Sufism at College and University level. He once again deplored the inaction of the authorities concerned towards the shrines of great Sufi poets, and demanded the government that priority should be given to renovation of the mausoleums of these poets. In his presidential address to the conference on Mian Muhammad Bakhsh, he said these great poets are the messengers of tolerance, peace, brotherhood and love for mankind.
Fakhar Zaman reiterated his demand to make Punjabi language compulsory at the primary level and urged the MPAs to speak in Punjabi in the provincial assembly. He vehemently advocated the need of Punjabi University to be established in Lahore. WPC, Zaman said, would be holding conferences on Bulleh Shah, Baba Farid and Shah Hussain before the start of Ramazan and afterwards conferences would be arranged on Sultan Bahu, Khawaja Farid, to be followed by Shah Abdul Latif Bhittai, Sachal Sarmast, Shah Inayat, Mast Tawakali, Khushhaal Khan Khattak and Rehman Baba. He said that Sufi poets were the only source of the national integration.
Fakhar Zaman said they could give soft image of the country beleaguered by extremism. He emphasised that all languages spoken in Pakistan were national languages of the country and the use of terminology of regional languages was derogatory.
Afzal Raaz, eminent Punjabi writer and editor of a local daily, said that like every year his organisation would again hold moot on Punjabi in Gujrat. He said he agreed with WPC chairman that curricula at college and university level should be radically changed. Iftikhar Bhutta said Punjabi movement was a progressive movement and the protagonists had to take strong steps for the recognition of this language. Mansoor Amin admired the poetry of Mian Muhammad Bakhsh, which he said, was full of symbolism of the human romances and travails. Iftikhar Warraich said he would be in the forefront in the demonstrations for the rights of Punjabi language. Ashfaq Ayaz, Qazi Qamar-ul-Islam, Chaudhry Shair Bahadur, Shareef Fayyaz and Iqbal Ballum spoke on different aspects of Mian Muhammad's poetry and recited his verses. In the end, Chaudhry Ismail presented WPC Chairman the correct version of Saif-ul-Malooq, which he said, was a labour of 15 years to find out the actual manuscripts written by Mian Sahib.
Curtsey:The News, Monday, June 15, 2015
Back to the movies:
'Punjab government to promote film industry'
By APP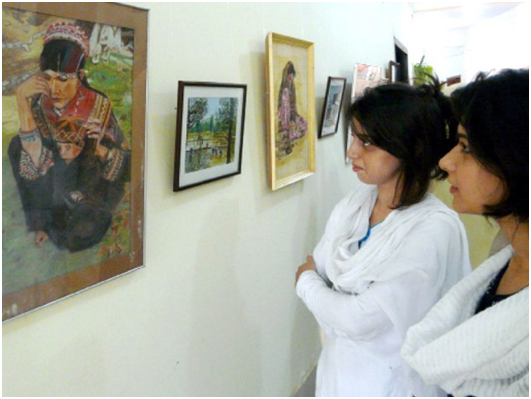 Visitors take in one of the pieces on display at the exhibition. PHOTO: INP
RAWALPINDI:
The Punjab government is making all-out efforts to revive the film industry and make necessary amendments in the Dramatic Performances Act, 1876, to promote art and culture.
This was said by Punjab Parliamentary Secretary for Information and Culture Rana Mohammad Arshad, while addressing a news conference at Rawalpindi Arts Council (RAC) on Monday. He was speaking to the news media after inaugurating a calligraphy exhibition.
The government is in touch with the film industry association and district-level art and culture committees are being strengthened to achieve the task across the province, he announced. The Punjab Film Censor Board has been reactivated to prevent objectionable scripts from making it to the screen, he stated.
"The government will do all it can to encourage the production of local films and stage plays." All available resources will be used to promote the country's art and culture at national and international levels, he added. "Tax on cinemas has been abolished to promote the film industry."
Presently, he said, RAC is holding around 24 courses to polish the skills of youth aspiring to excel in art and literature.
At the week-long calligraphy exhibition, 50 art pieces by Aftab Ahmed Khan were showcased. The artist is a recipient of the Pride of Performance. The pieces mostly depict verses from the Holy Quran in Nastaleaque and Kofi scripts in Khan's distinct style.   Later, Arshad distributed certificates among students for participating in art competitions including interior, fashion, textile and stained glass designing.                
Published in The Express Tribune, June 10th, 2014.

LAHORE
PUNJAB University (PU) Institute of Communication Studies (ICS) FM 104.6 has started the Punjabi language news bulletin besides increasing its transmission time by one hour.
Now the listeners of PU FM 104.6-the Voice of Campus-will enjoy l their favourite programmes from 11:00am to 4:00pm. The Punjabi news bulletin will help promote Punjabi language and culture among the students of the university and its other listeners.
According to a press release on Friday, PU FM 104.6 has taken the initiative to expand the news bulletin which was only in Urdu previously and included a Punjabi and an English news bulletin that would start next week.
The revamped programming aims to bring innovation to PU FM 104.6 as well as to give students an opportunity to enhance their skills by learning practical journalism skills at the radio channel. The increased transmission time will give more students a chance to learn hands-on broadcast of journalism skills, while improving their language proficiency and speaking power.
The PU FM 104.6-also known as the 'Voice of the Campus'-teaches students the basics of journalism by allowing them to present their ideas creatively in the supervision of professionals. For this purpose, different types of programmes are produced at 104.6, ranging from dramas to news and radio documentaries to live programmes.
Curtsey:The News, Saturday, September 20, 2014

Punjabi Cultural Show held at RAC
APP
RAWALPINDI: The Rawalpindi Arts Council (RAC) on Wednesday arranged a Punjabi Cultural Show aimed at promoting and introducing the cultural heritage of Punjab and to encourage the new young talent of the region. Ex-MNA Nadeem Afzal Chun flanked by RAC Resident Director Waqar Ahmed was guest of honor. The aim to conduct the show was to prove that Pakistani love their culture and not extremism. Different communities from all the provinces attended the show including Gilgit Balistan and Kashmir and added charm to Punjabi cultural show. Kalam of Mian Muhammad Bux, Bulhey Shah, Baba Fareed and other Punjab sufi saints were presented, besides matrimonial songs. Folk tale of Heer Ranjha and other skits based on Punjabi culture were also staged beautifully. Local singer Samina Khan paid glorious tribute to martyrs of the operation Zarb-e-Azb by her song. Addressing at the occasion Nadeem Afzal Chun addressing said that the culture is the recognition of any region and to love own culture means to love Pakistan. Waqar Ahmed said that the cultural heritage of all the provinces of Pakistan is like a bouquet of flowers. At the end of the show song on peace was presented and rich tribute was paid to martyrs of the Pakistan Army who sacrificed their lives for the sake of the country.
Daily Times: May 21, 2015
Punjabi Mushaira held at Punjabi Complex
LAHORE: International Vehsaki Punjabi Mushaira was held at Punjabi complex under the auspices of World Punjabi Congress.

The Mushaira was attended by a large number of poets from all over Punjab and substantial number of audience participated. The gathering was also to commemorate the silver jubilee of the only Punjabi daily 'Bulekha'. Fakhar Zaman in his address reiterated that the struggle to get rightful place to Punjabi including establishment of Punjabi University in Lahore will go on ultimately resulting into peaceful marches. Former Federal Minister Chaudhary Anwar Aziz also addressed the audience and said that Punjabi was a great language with a wonderful heritage and all efforts should be done to have it recognized at all levels.


On the occasion, Fakhar Zaman recited his two famous poems 'Chir Da Sitta' (The Estimate of Time) and 'Akheer Li Eid' (The Final Eid), which have been translated into many major languages. The poets who recited their poetry included Khalid Sajjad from Kuwait, Riaz Shahid and Iqbal Tariq from Bahrain and Afroz Alam and Shahjahan Hajab from India and guest of honor Mehmood Awan from Ireland. Others from Punjab included Dr. Akhtar Shumar, Nazeer Qaisar, Sophia Baidaar, Sughra Sadaf, Mudassar Butt, Ramzan Shakir, Younus Ahqar, Rashad Hassan Rana, Parveen Sijjal, Jameel Pal, Dr. Ajmal Niazi, Akram Sheikh, Dr. Arshad Iqbal, Aashiq Raheel, Hameed Nizami and others.
Curtsey:Daily Times, April 13, 2015
Call to promote Punjabi language and culture

LAHORE
A one-day national conference on Punjab, Punjabi and Punjabi Language and Culture was held here at PILAC under the auspices of World Punjabi Congress on Friday.
A large number of writers, scholars, intellectuals and artistes from all over Punjab attended the conference.
The Lahore declaration, unanimously passed by the participants, is as follows: The government has always shown regrettable negligence for the promotion of Punjabi language and culture. Despite the efforts of WPC directed towards the recognition of Punjabi language at the primary level, the Punjab government has not taken any steps. It was, therefore, demanded by the conference delegates to make Punjabi language as a compulsory subject at the primary level.
There is a dire need of establishing first-ever Punjabi University in Lahore as repeatedly demanded by WPC. The Punjab government has not shown any cooperation in this respect which is deplorable. It was, therefore, demanded to establish a Punjabi University in Lahore.
Over 10,000 MA Punjabi degree holders are unemployed and they have suffered for years at the hands of anti-Punjabi bureaucracy and the criminal neglect of the Punjab government. The gathering vehemently condemned various TV channels to ignore Punjabi language and show Punjabi culture in a derogatory way. Punjabi newspapers and journals are denied the proper quota of advertisements by the federal and provincial information departments.
The financial assistance to the Punjabi literary bodies is negligible and needs to be enhanced at least 10 times. There is a need to promote cultural affinity among the provinces that important universities of the four provinces should teach the languages of all the provinces.
The curriculum at the college and particularly Master degree level of Punjabi language is faulty, reactionary and bereft of contemporary Punjabi writings. A mafia of non-Punjabi writers or retrogressive Punjabi writers is preparing the textbooks at the college level. At the university level, the curriculum needs to be changed radically because it denies regrettably the true essence of Punjabi heritage, culture and contemporary writings which are essentially forward-looking. It was suggested that a high-level committee at the Punjab level and university level should look into the outdated syllabi and affect radical changes commensurate with the sensibility of progressive Punjabi writings. WPC should be consulted in changing the curricula at different levels.
All languages in Pakistan should be declared national languages of country. The National Assembly members who voted against the language bill in the house should be condemned. They lack wisdom, vision and historical perspectives. There is a great need to use the social media, Internet and online facilities for the promotion of Punjabi language and culture. Similarly, the English translations of contemporary Punjabi writings should be circulated on the Internet. The attitude of publishers is condemnable in respect of publication of Punjabi books. It was urged that they should give more facilities and financial impetus to Punjabi writers.
Punjabi film is on the decline and proper steps should be taken by the federal government to give financial impetus and other concessions to the filmdom. The propaganda for the division of Punjab by different political parties who are anti-Punjabi language, anti-Punjabi culture smacks of their prejudice against Punjab. It is a demand of the feudal, conspirators and chauvinists.
There is a tendency on the part of our Punjabi writers that they are mired in the usage of archaic words and prefer the purist tendencies. Punjabi language has to have new visions, new diction, modern idioms, metaphors and similes and sensibility. If Punjabi is to be popularised and make it acceptable to those resisting it, the Punjabi language should be such which can be easily understood by all shades of society. The tendency to project Punjabi fundamentalism has to be discouraged. It was also unanimously decided by the conference that WPC would continue to strive for these objectives until they are achieved.
The one-day Punjabi Conference dealt with various topics like Purism in Punjabi, Curriculum at the Higher Education Level, media and Punjabi, the decline of Punjabi Film, The Use of Social Media to Popularise Punjabi Culture, The Establishment of First Punjabi University, The Teaching of Punjabi Language at the Primary Level and The Heroic Tradition of Punjab and the cobwebs in the history of Punjab. The keynote address was made by Chairman WPC Fakhar Zaman. Those distinguished personalities who spoke included Punjab University VC Dr Mujahid Kamran, Abdullah Hussain, Dr Mehdi Hassan, Prof Qamar Abbas, Syed Afzal Haider, Dr Safdar Shah, Ahmed Saleem, Shaukat Ali, Hassan Nisar, former ambassador Tauheed Ahmed, Hussain Naqi, Tariq Khurshid, Rana Ehtesham, Bahar Begum, Nasreen Anjum, Qazi Javed, IA Rehman, Dr Akhtar Shumar, Karamat Bukhari, Nazir Qaiser, Parveen Malik, Dr Naheed Shahid, Prof Syed Bhutta, Dr Naveed Shehzad, Humair Hashmi, Iftikhar Mijaz and Shujaat Hashmi. Presiding over the conference, renowned writer Abdullah Hussain said that he was proud of being Punjabi and his mother tongue was Punjabi. He said all his Urdu writings reflected the sensibility and the culture of Punjab. He showed deep concern over some Punjabi writers who were using archaic vocabulary and outdated sensibility. He said in order to popularise Punjabi language there was a great need to make it simple that could be understood in all cities and classes. At the end of the session, two documentaries on Bulleh Shah and Baba Farid were shown to the great appreciation of the audience.
Curtsey:The News, Saturday, February 07, 2015
Session on understanding 'Saiful Malook' held at NPC
Islamabad
150th Session of reading and understanding of 'Saiful Malook' organised by Punjabi Sufi Sangat was held at the National Press Club, Islamabad, says a press release.
It was presided by Sahibzada Mian Muhammad Sajid of Darbar Khari Sharif. Huge gathering of Hazrat Mian Muhammad Bakhsh's admirers was present in the function.
Speakers paid rich tribute to Hazrat Mian Muhammad Bakhsh, the Great 19th century Punjabi Sufi Poet of Punjab and Kashmir, who wrote 17 books in Punjabi and one in Persian.
Former federal minister Qamaruz Zaman Kaira, addressed the audience and said: "We have focused our all energies to make our children a doctor, an engineer or a businessman etc but unfortunately we are ignoring one major element i.e., we are paying no attention to make them as good human beings, which could ultimately help constituting a civilised community."
Prof. Ashiq Hussain described the history of Reading and Understanding Sessions of Saiful Malook. He said that three years back the first session of Reading and Understanding Saiful Malook was started under the guidance of Prof. Saeed Ahmad, writer of Great Sufi Wisdom books.
Irfan Ch, Irfan Ahmad Kiani, Raja Muhammad Akram also addressed the gathering. The programm was conducted by Basit Subhani.
Prof. Saeed lamented the attitude of government for disrespecting Punjabi language saying disrespecting Punjabi language means disrespecting 120 millions Punjabi speaking Pakistanis. "People of Punjab, Kashmir and Hindko-speaking areas of Khyber Pakhtunkhwa should be taught the poetry of these Sufi saints. Poetry of Baba Farid Shakar Ganj (1175-1265), Baba Guru Nanak, Shah Hussain, Sultan Bahu, Bulleh Shah, Waris Shah, Hashim Shah, Malvi Ghulam Rasul Alampuri, Khawaja Ghulam Farid of ChachRaaN Sharif and Mian Muhammad Bakhsh of Jhelum-Mirpur, Pir Mehr Ali Shah of Golra Sharif, Sain Ahmad Ali Sain Peshaweri is full of divine love & tolerance," he added.
Curtsey:The News, Tuesday, January 07, 2014

In memory of Mian Muhammad Bakhsh
        
Prof Saeed Ahmad

 Hazrat Mian Muhammad Bakhsh, one of the most famous Sufi poets of the Punjab, was born in 1830 near Mirpur, Azad Kashmir. His father Mian Shamsuddin was also a saint and was gadi-nasheen at the shrine of Hazrat Pira Shah Ghazi Qalandar.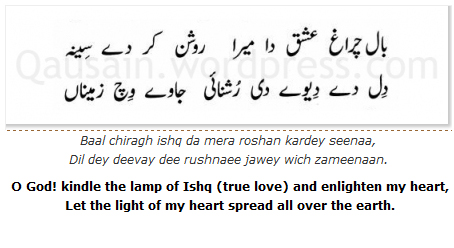 Mian Muhammad Bakhsh died on the 7th day of the Islamic month of Dhu al-Hijjah 1324 AH (1907 AD), and was buried in Khari Sharif. People from Punjab and Kashmir pay visit to his shrine for getting spiritual blessing.
His works include: Siharfi, Sohni Mahiwal, Tuhfah-e-Miran, Tuhfah-e-Rasuliyah, Shireen Farhad, Mirza Sahiban, Qissa Sakhi Khavass Khan, Qissa Shah Mansur, Gulzar-e Faqir, Hidayatul Muslimin, Panj Ganj etc. He also wrote a commentary on the Arabic Qasidat-ul-Burda of al-Busiri and his most famous work is entitled Safarul 'Ishq (Journey of Love), but better known as Saiful Maluk.
Mian Mohammad Bakhsh wrote eighteen books but his masterpiece that will keep his name ever glowing is no doubt Saiful Malook. He had done this great job when he was only 33-year old. Before writing Saiful Malook he had written books of poetry but those were not known to the public. The book Saiful Malook contains 9,249 couplets which are full of wisdom. He almost touched each and every aspect of life. Such sort of variety of various subjects you would not find in the poetry of any other Sufi saint of the Punjab.
Hazrat Mian Muhammad Bakhsh passed his life in celibacy but he devoted his God-gifted life for the sake of contributing great mystic thought in the language of massses.
It was his mother tongue Punjabi which has been badly ignored by all the governments in Pakistan since 1947 particularly.
It is ironic that all the officials in the Punjab and Centre respect Sufi saints like Mian Muhammad Bakhsh but they do not like to promote Punajbi language, in which these Sufi saints embedded pearls of wisdom, such wisdom which we need a lot in our day-to-day life. Let us rectify our previous mistakes and try to provide a high accolade to such great Sufi poets of the Punjab in our educational syllabus.
Curtsey:The News, Sunday, October 13, 2013

Eidi — an Islamic tradition absolutely essential in Punjabi culture
By Hussain Kashif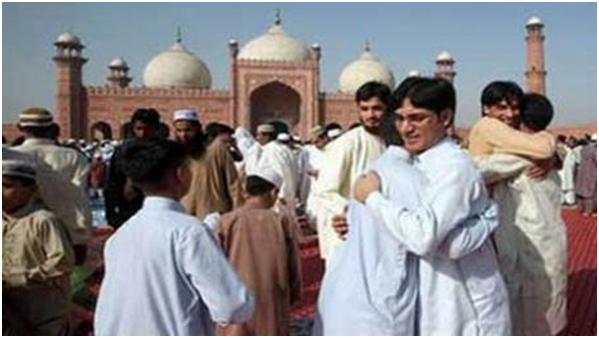 LAHORE: Muslims celebrate two special festivals by the name of Eid. The first is Eidul Fitr and the second is Eidul Azha. Both the celebrations are also known as Chotti Eid and Barri Eid or Bakra Eid in Punjab, respectively.

Giving gifts to others named Eidi on the eve of Chotti Eid is an Islamic tradition dating from early times of the religion. Today, the same tradition continues in three different shapes in the Muslims of Punjab. Eidi, on the Eid day is similar to the Persian tradition of 'Gifts on Nauroz' as Christmas presents among Christians.

The Punjab region has a cultural and linguistic influence of the Persians and Afghans, so the Punjabis are more or less near the Persian family system and lifestyle especially in admiring others in the tradition of gifts on special occasions.

In Islam, during its early centuries when cash was not influential, the barter system was strong or admirable among the masses and so they exchanged gifts on Eid. Dresses were generally used as gifts.

The history of Islam discloses that it began from Hazrat Muhammad (Peace Be Upon Him) and Hazrat Umar (RA) who exchanged gifts on Eid. This exchange of garments between Hazrat Muhammad (PBUH) and Hazrat Umar (RA) was quoted by Ibn-e-Umar (RA), son of Hazrat Umar (RA) that was reported with an authentic chain of narration to Ibn-e-Umar (RA).

In favour of this narration, Imaam As-Sindee said, "From the hadeeth it is known that beautification for the day of Eid was an established custom amongst them (the Companions) and the Prophet (SAW) did not disapprove of it. Consequently it is known that the custom remained." The same practice of giving gifts continues from the early days of Islam in Punjab on Eid today.
Historically, the same custom was continued by Muslim kings in Hindustan who sent gifts that included royal dresses, bangles, henna, sweets and Ashraffis (gold or silver currency of that era) as Eidi to the married daughters. The kings also distributed some cash or garments among their companions, advisers or employees as well as among the general public with the understanding that he is the master and elder of all people living in his kingdom.

The joint family system in Punjab is strong where an elder is responsible for feeding the family, as dependents would also follow similar royal tradition in their limits and status.

In Punjab, there are three different traditions of Eidi, the first is giving of a gift like dresses, bangles, or any other essential item that pleases the receiver. Second is cash money given to the children by the elders of the family, and third is a Secret Eidi in the shape of a gift that is presented to the Secret Imam in which members of some communities participate voluntarily.

Traditionally, children are in a long wait to celebrate Eid where most of them wish to get Eidi (cash) from their elders. Some centuries ago, there was no tradition to give cash to children. Nowadays, the tradition to give gifts has changed and children line up in front of the elders for Eidi soon after dressing up and offering prayers of Eid as this is the most integral part of Eid for children. All children of the family, whether poor or rich, and of every age try getting more money from all family elders and even some friends of the family too.

Interestingly, the Eidi on Eid especially in cash is a unique advantage for children, as parents do not mind their demand for money, unlike getting scolded on other days. According to some elders, Eidi is a way for people to open their hearts and keep an easy hand on the money to share with others. This makes one realize that currency should not be restricted to just one but it should also trickle down to other classes of society beginning from your own family
Curtsey:Daily Times: July 29, 2014
Wisdom, thoughts of Waris Shah offer solutions to societal problems
Schezee Zaidi

In the tradition of Punjabi Qissa poetry, the arrival of Waris Shah was an epoch making event, which changed the status, tone and tenor of Punjabi poetry. More than any other poet, it is Waris Shah alone who made Punjabi language enter every heart and hearth of Punjab. Heer is the supreme achievement not only of the poet but also of Punjabi poetry as the soulful passionate expression of the Punjabi psyche, culture and aspirations.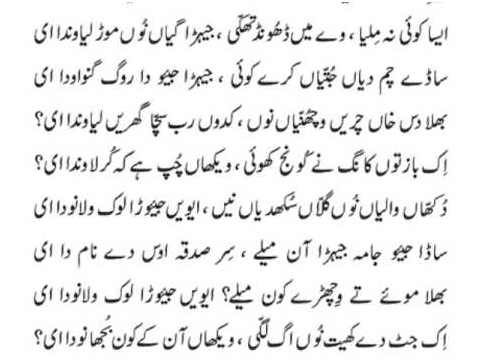 Speakers at the National Literary Waris Shah Conference organized by Pakistan Academy of Letters on Tuesday described Waris Shah as a trendsetter poet, whose wisdom and thoughts can provide solutions of many problems faced by today's society.
Waris Shah is recognized as a model poet who inspired and guided generations of Punjabi poets belonging to the medieval as well as modern period. He borrowed the story and plot of the legend of Heer-Ranjha and structured it anew and contrary to early happy endings raised it to the level of tragedy of classic dimensions. The beauty of this epic poem is that it has attracted every critic worth the name and has led to a variety of interpretations and critical approaches.
Shafqat Tanveer Mirza presided over the Waris Shah Conference while Iftikhar Arif Chairman Pakistan Academy of Letters, Dr Shaista Nuzhat and Veer Sipahi expressed their views on the life and works of Waris Shah. Taimoor Afghani and Waseem Abbas paid poetic tributes and Professor Sajjad Sheikh rendered English translation of Waris Shah's poetry while the proceedings were conducted by Asghar Abid.
Shafqat Tanveer Mirza said that Waris was a great poet of Punjabi literature and his expressions touched the harsh realities of life with sincerity of narrative. His poetry bears the characteristics of restlessness and tumult and highlighted the social problems in a way that was uncommon. He said that it is high time that new generation should research on his poetry and life and highlight its salient features.
Iftikhar Arif said that with completion of 'Heer', Waris Shah began the modern period in Punjabi poetry and became a household name in the subcontinent for more than 200 years now. He is regarded equivalent to Chaucer and Milton in English poetry. He turns the every day language into a verse of beauty and splendour. No wonder his language, though two centuries old, comes close to our pulse even today and evokes an authentic response.
Dr Shaista Nuzhat said that Waris Shah has done public regional and universal poetry at the same time. He beautifully included common rituals and vernacular in his poetry and his Heer Ranjha is the perfect reflection of our society. Waris Shah through the pages of Heer has examined all the social institutions with minute details and criticized them with the rigor of a social scientist and exposed all the contradictions in the society of his time.
Veer Sipahi said that Waris Shah was a trendsetter poet and 'Heer' by Waris is full of poetic intensity, authenticity, critical faculty, deep and wide observation, wisdom gained through living a full and rich life, critical daring, romantic imagination, poetic vision, artistic excellence and natural grace of perfect execution.
Curtsey:The News, Wednesday, July 30, 2008