Issues Facing
Punjab

Record water theft across Punjab
Water short Pakistani farmers test less thirsty way to grow rice
Lahore gets 40pc of Punjab's total ADP funds
7,000 primary schools in Punjab without electricity'
Punjab sugar mills owe cane growers Rs4.5 bn
Hamza Sharif now Poultry King of Punjab
Population shoots up by 47 percent since 1998
Lands of overseas Pakistanis being grabbed in Punjab
18th amendment will have consequences for Punjab
Rajanpur most, Lahore least deprived
Helping hands: 21% people in Punjab living below poverty line, says minister
Punjab's profile of regional backwardness
Migration and economic backwardness in Punjab
Punjab to develop economy through development of mega projects
Record water theft across Punjab
Javed Iqbal
Tail-enders being deprived of up to 65pc water share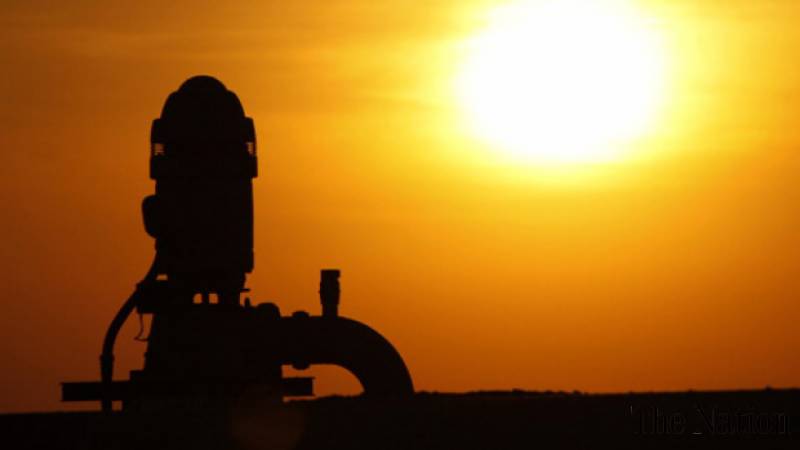 LAHORE - Findings of a recent investigation report compiled by the irrigation department indicate that farmers at the tail-ends of irrigation system were being deprived of 60 to 65 per cent of their due share of water owing to water theft by mighty landlords.

As per the report, as many as 123,415 persons were found involved in water theft across Punjab but only 315 could be arrested and 82 imprisoned during 2014. While 28,390 water outlets were reported tempered out of total 58,000, the total number of water theft cases in Punjab stood at 77,970 whereas 25,877 cases of theft involved installation illegal pipes at the canals.

This crime continued in connivance with the department officials and the representatives from farmers' organisations. The overall mismanagement and lack of interest on part of the irrigation department officials also played key role in this regard.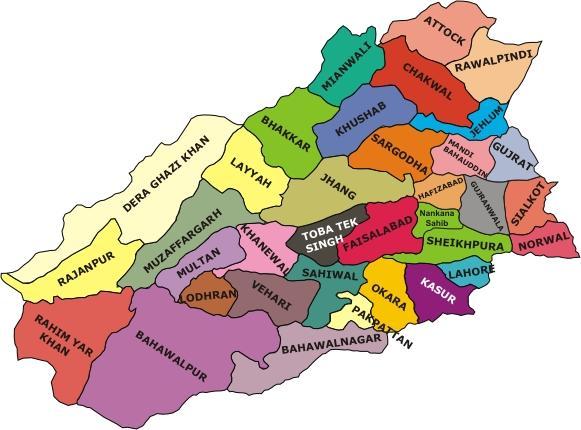 As per an official report, out of the total water outlets reported as tempered in all zones, Bahawalpur Zone remained on the top with 16,454 outlets tempered, followed by Multan, Faisalabad, DG Khan, Lahore, Lower Bari canal and Sargodha with 2,962, 2,909, 2,403, 2,383, 822 and 457 tempering cases respectively.

Out of total 77,970 cases of water theft, 50,955 were reported to the police, which in turn registered only 6,518 cases and took action against culprits in 3,805 cases. Only 315 arrests were made. The police investigated only 4,665 accused out of total 123,415 persons actually found involved in water theft cases. Only 1,075 cases of water theft were decided as a result of which 82 criminals were jailed and Rs3,414,390 fine was imposed on the culprits. The Revenue officers did not share information about the recovery of the fine excusing they lacked compiled data.

Sources, however, said that over 200 Irrigation and Pida officers and FO office bearers were found involved in water theft but majority of them could not face action as they manoeuvred the things successfully.

The report further says that out of total 56,100 farmers involved in water theft in Bahawalpur Zone, only 19 could be arrested while 13,102 cases were reported to police. In DG Khan Zone, out of 12,974 accused, only 204 were arrested while 5,832 cases were reported to the police. In Faisalabad, out of total 11,264 accused, only 52 were put behind bars while 3,806 cases were reported to police.

In Lahore Zone, out of total 23,380 accused, only 10 were caught while 12,145 cases were reported to police. In LBDC area, out of total 291 thieves, only one person was arrested by police while 181 cases were reported to police. In Multan Zone, out of total 7,979 people involved in water theft, only six could be kept in custody while 4,603 cases were reported. In Sargodha Zone, there were 11,427 accused but the police could approach only 23 people against the 11,286 reported cases.

The number of arrests made speaks volumes of the actions against the culprits and how this inaction would encourage water theft. The Section 430 of PPC and Section 70 of Canal and Drainage Act entails action against those involved in water theft. But police badly failed to take action against those involved in water theft, according to the report.
The mighty farmers pay Rs20,000 to Rs100,000 per outlet to the SDOs (Sub-Divisional Officers) and XENs for tempering, oversizing or installing an illegal pipe in the canal or distributaries and steal irrigated water. In some cases, the bribed money also travels up to Superintendent Engineers and Chief Engineers who turn a blind eye to the crime.
Though about 20,717 tempered outlets were repaired and 25,186 illegal pipes removed, the habitual water thieves blatantly broke the outlets minutes after the officials repaired them, department sources said. They said that only reports of 'everything fine' were forwarded to the authorities but on ground there was no change at all.

A former PID Secretary of the Irrigation Department requesting anonymity told that many politicians also back the officials who allow water theft after receiving their shares. He said the rest of the cases reported to the police are concluded with no action as police compromise after accepting bribes. The tail community farmers suffer and neither the Irrigation department, Pida nor Police were ready to focus on the complaints of serious crime.

Lack of interest of FOs, revenue department, police and political pressure all combine to save the skin of those involved in the crime. He said that foreign donors paid billions of rupees to ensure availability of irrigation water to the tail farmers but the authorities badly failed to do so. He said that the tail community could get only 30-40 per cent of total water share that was a 'big dacoity' on their rights.

According to the ex-irrigation secretary, the report clarifies that the participatory approach of farming community in water distribution ended at their involvement in facilitating water theft. Pointing towards lacunas in the poor accountability in the department, he said, the police usually registered cases against the whole community instead of a specific farmer involved in theft. The police after receiving bribes from all those involved usually put the cases in the dustbin.

An Anti-Corruption Establishment Officer told this scribe that many affected farmers reported water thefts but no action was taken against the culprits. He said the irrigation department has now approached the ACE to take action. ACE DG Anwer Rasheed said that all those Pid, Pida officials or FOs involved in water theft would face action and nobody will be spared on this account.
Curtsey:The Nation, January 19, 2015

Water short Pakistani farmers test less
thirsty way to grow rice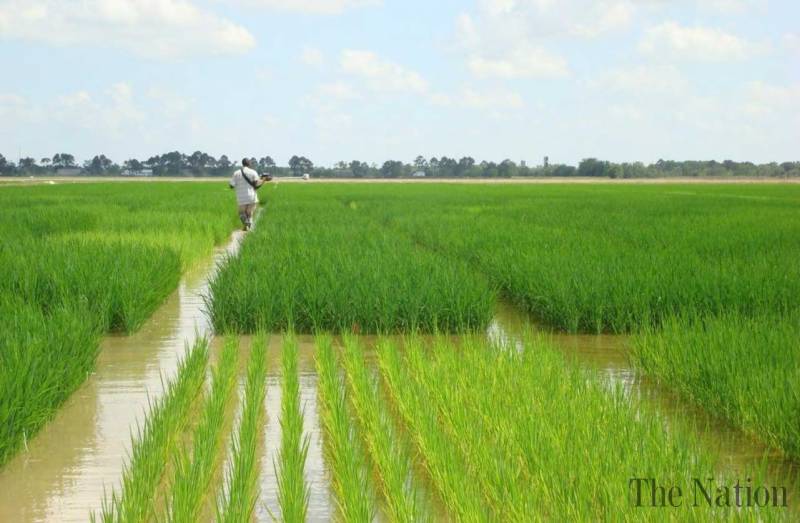 ISLAMABAD: Erratic monsoon rains have made it increasingly hard for rice farmer Sardar Muhammad to bring in a good harvest.

But learning how to plant seed directly in his fields – rather than transplanting seedlings, as farmers have for centuries in parched Punjab province – is helping him manage scarce water better and get a decent crop.

Growing rice this way "requires less labour, less irrigation", he said.

The rice seed is sown straight into moist soil and does not require continuous submergence.

So far 30 farmers have applied the improved, water-saving rice cultivation technique on a total of 48 hectares (118.6 acres) in Punjab province.

With the traditional method, in contrast, rice seedlings are first cultivated in nurseries for several weeks before being transferred to flooded fields.

About a third more water is required through the growing cycle, and the crop takes 15 to 20 days longer to mature.

On average in Pakistan, some 3,000 litres of water are used to produce 1 kilogramme of rice, which is the main staple food. But as the country's already scarce water resources dwindle, there is increasing pressure to find more water-efficient growing methods.

A recent report from the Planning Commission of Pakistan shows that, in 1951, per-capita water availability was 5,650 cubic metres. By 2010, that figure had plunged to 1,000 cubic metres and is projected to fall to 800 cubic metres by 2025, when the population is expected to hit 221 million.

Finding ways to grow more food with less water will be crucial in Pakistan as climate change alters weather patterns, affects monsoon rainfall and reduces groundwater, experts say.

Planting rice directly in fields may be one way to keep up food production and help reduce the migration already happening as hard-hit, small-scale farmers give up on their fields and trek to towns and cities in search of other work.

Innovation benefits

Muhammad, who grows rice on his family's 15 hectares (37 acres) in Sheikhupura district, said switching to the new planting method had cut the amount of irrigation needed in his rice fields by around 40 percent, a crucial change as groundwater levels drop.

"This is really no small benefit," he said, smiling. "This is helping us adapt to water shortages."

Muhammad learned the new technique under a four-year agricultural innovation programme, launched in 2013 by partners including the US Agency for International Development (USAID) and the International Rice Research Institute.

The $30 million project aims to help Pakistan's farmers boost their profits while coping with climate change risks to the sustainability of water and agriculture, said John Groarke, head of USAID in Pakistan.

Besides its work on rice, the programme has introduced heat-tolerant maize and higher-yielding wheat varieties, he added.

Muhammad Ibrahim Mughal, chairman of Agri Forum Pakistan, a farmers' rights organisation, said traditional rice cultivation was time-consuming and laborious, as farmers spend long hours bent over in fields.

It has also become less viable as river flows decrease and groundwater declines, he added.

As a result, farmers are now increasingly willing to experiment with the new growing technique, said Sardar Karim, another farmer from Punjab province.

Direct sowing is producing a 25 percent boost in harvests under ideal conditions on the test plots, said Iftikhar Ahmed, chairman of the Pakistan Agricultural Research Council.
Curtsey:The Nation, October 09, 2015

Lahore gets 40pc of Punjab's total ADP funds
Javed Iqbal
Opposition says PML-N intensifying sense of deprivation among masses from backward areas | Mehmood warns $10b new city plan will be another blunder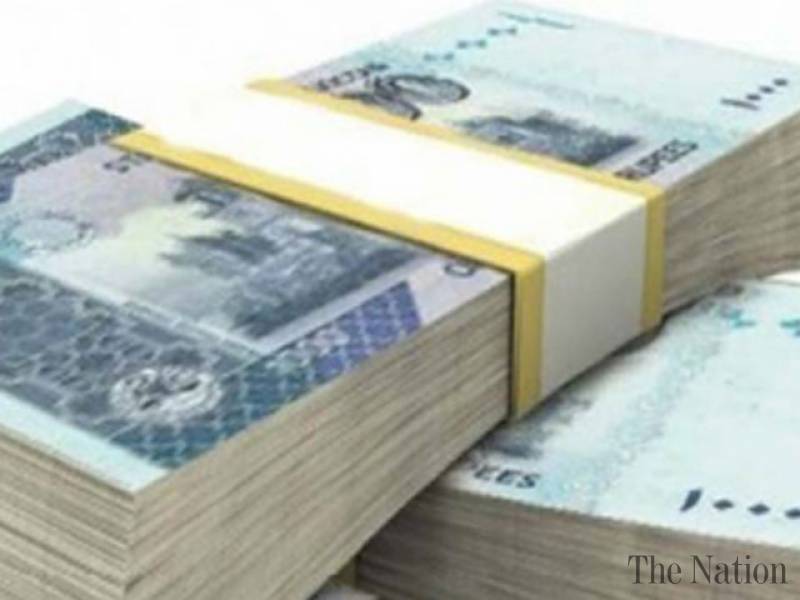 LAHORE - About 40 per cent of the Punjab's total annual development programme (ADP) for the outgoing fiscal year has gone to Lahore alone, leaving the remaining 60 per cent to meet the requirements of the other 36 districts of the province, most of them backward needing more funds to be at par with the developed administrative units.
The total ADP for the year 2013-14 was Rs 290 billion. However, Rs 50 billion were given to Daanish schools, Tevta and other independent bodies and Rs 40 billion that were expected from the federal government or other resources could not be added to the development budget, thus total core ADP was Rs 200 billion. About Rs 70 billion were paid to the capital.
As the utilisation of the ADP in the province remained low and to avoid lapse of funds, a P&D official said Rs 15 billion may be transferred to the LDA accounts, thus raising the total sum for Lahore to Rs 85 billion while Rs 130 billion are being spent on different development programmes in the rest of the province.
The data collected from different official documents shows that the provincial government paid Rs 9.29 billion for Wasa drains rehabilitation (Bird Wood Drain, Central Drain and Cantonment Drain from Multan Road to Babu Sabu, Rs 1.61 billion for Lahore Ring Road Project, construction of interchange at Khaira Distributary, Rs 8.5 billion for repair and decoration of all underpasses on Jail Road along the Lahore Canal and others, Rs 5.71 billion for the construction of an elevated expressway from Gulberg to Ring Road Motorway, Rs 1.40 billion for extension, repair and decoration of road along the Lahore Canal from The Mall Underpass to Doctors' Hospital, Rs 1.91 billion on installation of water supply lines, Rs 8.41 billion on maintenance of Shahi Bagh, Rs 2 billion on construction of Shahpur Kanjran to Sharqpur Sharif Road, Rs 0.5 billion on the construction of the River Ravi front, Southern Loop Ring Road 2.86 billion, Rs 2.98 billion on construction of Airport Link Road under Lahore Ring Road project, Rs 850 million for repair of the Ministers' Block, Rs30 million for sustainable development of walled city of Lahore project, Rs 1.24 billion on burn centre at Jinnah Hospital and Rs 790 million on Multan Road Phase II Scheme Morre to Chauburji.
Moreover, millions of rupees were spent on different projects like Minar-e-Pakistan Circular Garden Rs 330 million, Ravi Bridge for MBS Rs 770 million, Rs 730 million for lining of Khaira Distributary, Rs 780 m for provision of emergency services at high-risk buildings, Rs 420 million for installation of water filtration plants in the city, Rs 578 million for construction of double road from Barki Road to Ashiana Housing Scheme, Rs 200 million for construction of commercial complex at Lahore Railway Station, Rs 200 million for completion of Ring Road, Northern Loop, Rs 783 million for capacity building for managing emergencies in high rise buildings, Rs 335 million for establishment of 60-bed tehsil level hospital at Lidher, Bedian Road, Rs 1.24 million for Jinnah Burn & Reconstructive Surgery Centre, Rs 424 million for installation of 100 water filtration plants and many other development schemes.
An opposition MPA said such a large share from the ADP for the 10 percent population of the Punjab could intensify feelings of deprivation among those who lacked basic necessities of life. He said though no one could deny importance of projects like metro bus system or mass transit train service in big cities, when people are deprived of basic facilities like education, health and clean drinking water, the major ADP allocation for the capital is not fair.
Criticising the government's figure of Rs 30 billion for Lahore metro bus (though the real amount was much more) in short time of 11 months, he said, a tiny portion of it was enough to provide basic facilities to the poor. He said the proposed mass transit train project worth $1.6 billion would further intensify the feelings of those living in remote areas of the province. This huge amount could be used to restore cash-strapped public utility, Pakistan Railways, a symbol of federation that could facilitate all and sundry from across the country and lessen the severity of criticism on 'Lahore Government'.
A P&D official refused to share the relevant data. He, however, confirmed that a major chunk of the ADP was consumed in the capital city. Talking about reasons, he said, many people prefer to reside here but with no single room of their own. If people want to move to Lahore as it happened in the past, nobody could curb this trend, he asserted. The solution, he suggested, could be a compulsory shifting of some of the headquarters of different public sector bodies to other cities. "It is a financial hub as well as a political theater, so it would not be wise to compare its development with the rest of the province. The bubble of housing was raised at the cost of running of factories, green fields, vegetable plots and gardens. This self-destruction will multiply depravity among the people. Extension of the metropolis was actually out of government control. The days to dictate people where to work and where to reside have gone," he said.
Opposition leader in Punjab Assembly Mian Mehmood-ur-Rashid said public was angry over what the capital gets at the cost of other small and big cities. He said clean drinking water, education and health should have been priorities instead of metro bus and mass transit train projects. "The planned new city near the River Ravi worth over $10 billion would be another blunder of this regime. A political agenda is vital to stop converting fertile lands into housing colonies," he held, adding the other cities needed to have more economic, political and cultural role across the province. The concept of greater LDA was another wrong move of the land mafia, he gave critique.
Punjab Labour Minister Raja Ashfaq Sarwar could not be contacted for comments on the issue despite repeated attempts. However, Parliamentary Secretary for Information and Culture Rana Muhammad Arshad defended the consumption of the major ADP share in Lahore. He said the capital city with around 100 million persons deserved housed civil administration secretariat, IG police offices, headquarters of all government departments, big universities and medical colleges and an international airport. The greater LDA, he said, would develop backward areas of Sheikhupura, Kasur and Nankana Sahib. He said the PML N government fixed funds for South Punjab more than previous regimes. He said establishment of modern varsities, colleges and hospitals at RY Khan, Multan and DG Khan and Daanish schools were for the poor people of remote areas
Curtsey:The Nation, May 31, 2014
7,000 primary schools in Punjab without electricity'

LAHORE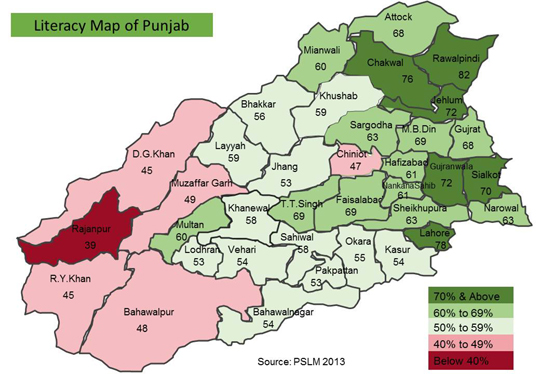 On the occasion of International Day of teachers, Central Media Cell of Pakistan Awami Tehreek (PAT) has released a white paper on 'pathetic' condition of teachers in Punjab and 'poor' condition of educational institutes apart from the mismanagement and corruption that prevails in the Education Department and the alleged step-motherly attitude of the rulers towards the Punjab teachers.
According to the white paper, seven thousand primary schools are deprived of electricity, three thousand of boundary walls, twelve hundred of toilets and seven hundred of clean drinking water. Ten thousand seats have been vacant there for the last seven years. Government has spent national wealth on political advertising campaigns like solar panels instead of improving the teacher's welfare.
They have taken away the constitutional right of peaceful protest from teachers and have been continuously humiliating them for the last seven years. No official ceremony has been held in Punjab on the Teacher's Day which is clear evidence of discrimination. Education ministry is being run on ad hoc basis and no permanent minister has been posted.
This white paper was released at a meeting of the PAT Research Cell by Bashara Jaspal, Punjab PTI president, Mushtaq Noorani, general-secretary and information-secretary Noor-Ullah Sadiqui.
The white paper said that Punjab is the only province where teachers do not have the constitutional right to protest and teachers are deprived of 25 annual holidays. Teachers are being treated like brick-kiln workers.
In seven years, the teachers came out on streets eight times to protest for their rights, but the irony of the fact is that instead of giving them their rights, they were booked in false cases and subjected to violence by the police which acts like a watchdog of the Punjab government.
The paper said they are either transferred to far-flange areas or forcibly retired. The paper said that this step-motherly attitude of the Punjab government towards the teachers is the main reason for low literacy rate in the province and the Millennium goal of achieving 100 per cent enrolment in schools could not be met.
The papers further said that in every province teachers are provided with official residence and have housing scheme, but in Punjab no such thing exists. It said that a parallel education system has been imposed in Punjab. The paper said that there is hell of a difference between the pay and privileges being given to teachers of the Danish Schools and the teachers of the rest of the province. This has created a scene of deprivation among the teachers of the province. It said despite the complete failure of the Danish Schools billions of rupees have been approved for this project.
The leaders said Rs 35 crore, the amount spent on the renovation of the boundary wall of the residence of the Punjab CM's Jatti Umra residence, would have been enough to make new boundary walls of over 1,000 schools in the province which have risks of being a targeted by terrorists. They said teachers are posted 30 to 40 miles away from their houses and a few minutes delay becomes a reason of stopping their annual increment.
The PAT white papers demanded that all the cases filed against teachers during their protests should be withdrawn immediately and all restriction imposed on them must also be withdrawn. PAT demanded that the demand for annual leaves should be accepted and their pay structure should be reviewed. Housing societies be established for the teachers and the education department must include teachers representatives when framing policies for the teachers. PAT also demanded transport facilities for the teachers so that they can reach schools and colleges on time and they should also be given interest-free loans to build houses. -Online
Curtsey:The News, Tuesday, October 06, 2015
Punjab sugar mills owe cane growers Rs4.5 bn
Punjab CM says strict action will be taken against millers not making timely payments to sugarcane growers
Jawwad Rizvi
 
LAHORE: Powerful sugar millers in Punjab still owe more than Rs 4.5 billion to sugarcane growers while the next cane crop is due in a couple of months.
The framers across Punjab staged a three-day protest outside the Provincial Assembly on The Mall but returned empty-handed while Chief Minister Shahbaz Sharif assured them of resolving their grievances.
Of 45 sugar mills in the province, only 19 paid dues to the framers timely while 24 are still to pay the growers. One sugar mill has already been sealed and another did not crush sugarcane in the last season.
According to official figures available with The News, the Brother Sugar Mills of Kasur owes more than 50 per cent dues to the farmers. The Brother Sugar Mills has so far paid Rs 850 million to the sugarcane growers and still owe them over Rs 878 million.
The sugar mills which did not pay the growers are Shakarganj-Bhone-Jhang (around Rs 250 million), Colony-II Khanewal (Rs 298 million), Shakarganj-I-Jhang (Rs 395 million), Hussein Sugar Mill Faisalabad (Rs 395 million), Noon Sugar Mills Sargodha (Rs 325 million), Abdullah Sugar Mills-I Okara (Rs 395 million), Abdullah Sugar Mills-II Sargodha (Rs 215 million), Macca Sugar Mills Kasur (Rs 25 million), Huda Sugar Mills Nankana Sahib (Rs 82 million), Kamalia Sugar Mill (Rs 355 million), Haseeb Waqas Sugar Mill (Rs 198 million), Pattoki Sugar Mills Kasur (Rs 200 million), Ramzan Sugar Mill Chiniot (Rs 189 million), Adam Sugar Mill Bahawalnagar (Rs 97 million), Haq Bahu Sugar Mill and Baba Farid Sugar Mill (Rs 60 million each), Fecto Sugar Mill (Rs 110 million), Chaudhry Sugar Mill (Rs 88 million), Ittefaq Sugar Mill (Rs 30 million), Tandlianwala Sugar Mill (Rs 35 million), Kashmir Sugar Mill (Rs 30 million), Tandlianwala Sugar Mill-II (Rs 50 million) and Etihad Sugar Mill (about Rs 2 million).
The mills which have made timely payments to sugarcane growers are Popular Sugar Mill, Safian Sugar Mill, Al-Moiz Sugar Mill, Hamza Sugar Mill, Hunza Sugar Mill-I, Hunza Sugar Mill-II, JDW Sugar Mill-I&II, Rasool Nawaz Sugar Mill, Shahtaj Sugar Mill, Layyah Sugar Mill, Sheikhoo Sugar Mill, Madina Sugar Mill, Rahim Yar Khan Sugar Mill, Fatima Sugar Mill, Ashraf Sugar Mill, Indus Sugar Mill, Channar Sugar Mill and Jauharabad Sugar Mill.
The chief minister has assured the framers that their interests would be protected at every cost and strict action would be taken against the mills not making timely payments to them.
Punjab Food Secretary Dr Pervaiz Ahmed Khan, talking to The News, said he had already issued instructions to the Punjab cane commissioner to ensure payments to the sugarcane growers in few days. "The cane commissioner has been asked to recover the dues and take action against defaulters," he said.
Replying to a question that some of the defaulting millers are relatives of the rulers, he said the law was equal to everyone and no one would be spared.
Curtsey:The News, Monday, August 24, 2015
Hamza Sharif now Poultry King of  Punjab

ISLAMABAD: Hamza Shahbaz has ventured into the businesses of poultry, dairy farm and poultry feed in a big way after textile, sugar, steel and trading, his declaration of assets and liabilities filed with the Election Commission of Pakistan for the year ending on June 2010 shows, writes Tariq Butt.
Those in the business that Hamza has started describe him as "king of poultry feed" in Punjab. He has the largest investment in the poultry feed as is evident from his statement.
An unsecured loan of Rs500,814 has been shown in Hamza's declaration against the name of his father Punjab Chief Minister Shahbaz Sharif.
Hamza's assets swelled by just Rs583,191 compared to what he had declared in 2008. Now, he has estimated his net assets at Rs211,080,295 as against Rs210,497,104 two years back. The value of his wife's assets remains the same at Rs2,500,000.
Hamza, who had run the Sharif family's business in hard times when it was in exile in Saudi Arabia, has shown investments valuing Rs116,198,850 in fourteen companies. But he owns no house, no car.
Their details are: shares valuing Rs6,238,850 in Chaudhry Sugar Mills; Rs1160,000 in Ramzan Sugar Mills; Rs1,162,000 in Hamza Spinning Mills; Rs3,443,000 in Muhammad Bakhsh Textile Mills; Rs50,000 in Kalsoom Textile Mills; Rs3,030,000 in Hudabiya Paper Mills; Rs875,000 in Hudabiya Engineering; Rs100,000 in Khalid Siraj Industries; Rs10,000 in Madni Trading (Pvt) Limited; Rs10,000 in Madina Construction Company; Rs100,000,000 in Sharif Feed Mills; Rs10,000 in Sharif Poultry Farms; Rs10,000 in Sharif Dairy Farms and Rs100,000 in Ramzan Energy Limited.
Hamza has an amount of Rs3,720,976 as cash in hand and a bank balance of Rs6,512,578. He owes seven unsecured loans of a total of Rs92,227,028. They are Rs1,000,000, Rs500,814; Rs588,735; Rs73,019,279; Rs6,000,000; Rs5,246,600 and Rs5,871,600 in the names of Mrs Shamim Akhtar, Shahbaz Sharif, Mrs Javeria Ali, Sharif Feed Mills, Sharif Poultry Farms, Madni Trading Company and Madina Construction Company respectively.
The declaration put the total value of assets at Rs214,938,456. After deducting a liability of Rs3,858,161 of Ramzan Sugar Mills, the net wealth comes Rs211,080,295. His wife's assets include 50 tolas of jewellery valuing Rs900,000, cash and prize bonds of Rs1,000,000, and furniture, fittings and articles of personal use of Rs500,000.
Curtsey:The News, Thursday, April 21, 2011
Population shoots up by 47 percent since 1998
Abdul Sattar Khan

LAHORE: Balochistan witnessed the highest and the Punjab the lowest increase in population from 1998 to 2011, with the country's overall population shooting up to an alarming 46.9 percent.
Households witnessed an increase of 50.4 percent during the period, according to preliminary results of housing listing 2011.
As compared to the population of 130,857,717 in 1998, the overall population was recorded at 192,288,944 in 2011 all over Pakistan, excluding three districts of Balochistan (Khuzdar, Kech and Panjgur) Agency of Fata (South Waziristan) as well as Azad Jammu and Kashmir (AJ&K) and Gilgit-Baltistan.
However, with the inclusion of population of Azad Jammu and Kashmir and Gilgit Baltistan, the population of the country would reach 197,361,691 in 2011 against 134,714,017 in 1998, showing an increase of 46.5 percent.
The highest increase in population was witnessed in Balochistan, followed by Sindh, Fata, Khyber Pakhtunkhwa and the federal capital while the Punjab province witnessed the lowest increase in population as compared to the other provinces.
In terms of percentage, the highest 139.3 percent increase in population was witnessed in Balochistan (from 5,501,164 to 13,162,222) followed by Sindh where the population increased by 81.5 percent (from 30,439,893 to 55,245,497).
Similarly, the population of Fata has increased by 62.1 percent (from 2,746,490 to 4,452,913), Khyber Pakhtunkhwa by 51.6 percent (from 17,743,645 to 26,896,829), federal capital Islamabad by 43 percent (from 805,235 to 1,151,868) while the population of Punjab witnessed the lowest 24.1 percent increase (from 73,621,290 to 91,379,615).
The population of Azad Jammu and Kashmir witnessedan increase of just 1.54 percent from 2,972,501 in 1998 to 3,631,224 in 2001 whereas the population of Gilgit Baltistan increased by 63.1 percent from 883,799 to 1,441,523.
On the other hand, the number of households throughout the country increased from 18,934,880 in 1998 to 28,478,642 in 2011, showing an increase of 50.4 percent.
The highest increase of 109.2 percent in households was witnessed in Balochistan where the number of households increased from 760,633 to 1,609,995, followed by Sindh where the households increased from 4,997,134 to 9,191,907, showing an increase of 83.5 percent.
The number of households in the Khyber Pakhtunkhwa increased by 45.8 percent (from 2,210,455 to 3,223,371), followed by the federal capital, Islamabad, where the number of households increased by 36.9 percent from (128,753 to 176,280).
Similarly, the number of households in the Punjab increased from 10,537,323 to 13,911,812 (32 percent) whereas in Fata the households increased from 291,582 to 365,277 (25.3%).
In the AJK, the number of households increased by 38.1 percent from 406,033 to 560,720 and in Gilgit Baltistan by 49.9 percent from 109,318 to 163,887.
As far as population proportion is concerned, 13.99 percent of the total population of the country has been reported in Khyber Pakhtunkhwa in 2011, 2.32 in Fata, 47.52 in the Punjab, 28.73 percent in Sindh, 6.85 percent in Balochistan and 0.60 percent in Islamabad.
According to the 1998 census, the population in Khyber Pakhtunkhwa was 13.41 percent of the total population, 2.40 percent in Fata, 55.60 percent in the Punjab, 22.9 percent in Sindh, 4.9 percent in Balochistan and 0.6 percent in Islamabad, the data revealed.
According to data, average household size has decreased from 6.9 in 1998 to 6.8 in 2011.The average of household size decreased from 7.0 to 6.6 in the Punjab, from 6.1 to 6.0 in Sindh.
However, in Khyber Pakhtunkhwa, it increased from 8.0 in 1998 to 8.3, in Fata from 9.4 to 12.2, in Balochistan from 7.1 to 8.2 whereas the average household size increased from 6.3 to 6.5 in capital Islamabad.
Curtsey:The News, Thursday, March 29, 2012
Lands of overseas Pakistanis being grabbed in Punjab
Member BOR says govt aware of problem; victims say nothing was done

Waseem Abbasi
ISLAMABAD: All is not well in Shahbaz Sharif's Punjab as a well connected and highly influential mafia is active in remote parts of the province to deprive overseas Pakistanis of their precious land with the help of corrupt elements in the Revenue Department.
According to documents, the land-grabbers and their cronies in the department have become so powerful that they completely disregard their seniors in Lahore and even inquiry reports compiled by top officials on the complaints of the victims are trashed.
Top officials of both the Revenue department and Overseas Pakistanis Foundation (OPF) acknowledge the problem, claiming that measures have been taken to address the issue.However, the facts on ground tell another story. Documents show that even Pakistanis living in the holy city of Madina were not spared by the greedy land grabbers.
An inquiry report by the Punjab Board of Revenue (BOR) reveals that the land-grabbers particularly target overseas Pakistanis with the help of corrupt elements in the department. These scoundrels then prepare fake documents pertaining to that land and either transfer its ownership in the name of their servants or relatives or sell them to third parties.
"My land was sold to someone by the Revenue Department officials in 2005, when I was living in Madina Munawara. They used my fake ID card and the power of attorney is purportedly signed by me on the dates when I was not even in the country" said a victim Qari Mohammad Qasim Rabbani of Bahawalpur district who has been living in Madina for the last 20 years.
Mr Qasim said upon his return in 2008, he filed an application with the Anti-corruption Department but the current Naib-Tehsildar of Ahmad Pur East Shiekh Mohammad Asghar Saeed and ex-Naib Tehsildar Abdul Jabbar approached him and acknowledged their wrongdoing.
According to Qasim, the two officials promised to pay him the price of the land but later retracted when the issue died down. The victim filed an application with Revenue Department, which conducted a detailed inquiry into the affair. The inquiry authenticated claims of the victim and recommended stern action against the land-grabbers.
According to inquiry No 123-2011/102, signed by Deputy Secretary (Revenue) Board of Revenue, Punjab, the victim was not present in Pakistan when his land measuring over 11 kanal in Village Dhai Wala Channi Goth, Tehsil Ahmad Pur East was sold to two persons, Ahmad Bakhsh and Mohammad Ramazan, using fake ID card and power of attorney of the victim.
The report says the ID card number of the victim is 32657396002 while the fake power of attorney shows the number as 32668274537. It confirms that the passport of the victim shows that he was out of country from 2004 to 2008 while the power of attorney has his fake signature dated July 22, 2005.
The investigation revealed that the land document was also not issued on the request of real owner (Mr Qasim). "In the light of above it is requested that necessary action may kindly be taken in the light of recommendations, approved by learned Senior Member (Revenue) BOR and compliance report be submitted at the earliest," says the report dated July 14, 2011.
"My passport record says I was not in the country when the officials of Revenue department made my fake power of attorney and transferred my precious commercial land in the name of their servants," said Qasim Rabbani.He appealed to the CMto look into the matter and take stern action against all those officials involved in this practice.
When contacted, Naib-Tehsildar of Ahmad Pur East Shiekh Mohammad Asghar Saeed whose name was mentioned in victim's application as one of the land-grabbers said the case is too old to be remembered. He promised to get back with details but failed to do so despite passage of over one week and repeated phone calls and messages. However, Senior Member Board of Revenue Nadeem Ashraf said the government is aware of the issues faced by the overseas Pakistanis including the land-grabbing complaints, adding recently a number of measures have been taken to resolve the issue.
"The governor Punjab has recently constituted Punjab Overseas Commission to particularly deal with issues like these," Nadeem Ashraf said.The senior most official of BOR promised to take action on failure of concerned officials to comply with the recommendations of department's own inquiry report.
Talking to The News the MD of Overseas Pakistanis Foundation (OPF) Iftikhar Babar acknowledged that land grabbing is one of the major problems faced by Pakistanis working abroad. "We are aware of the gravity of the issue, especially in remote areas of southern Punjab and for this purpose focal persons have been appointed at district levels across Pakistan to resolve issues concerning the overseas Pakistanis in their districts," Mr Babar said. Talking about remote areas, he said special teams of OPF occasionally visit the districts and meet the DCOs to expedite the process of complaint resolution.He said regional offices of OPF have been set up in all four provincial capitals, Azad Kashmir and Multan to ensure easy access for the residents of these areas.INP 04-01
Curtsey:The News, Thursday, June 05, 2014
Punjab's water cess collection marred by corruption, hierarchy of influentials
The Punjab Irrigation and Drainage Authority (PIDA) is unable to recover or collect abiana (water cess) from farmers to meet its target, as most of the farmers are unwilling to pay the tax even after the lapse of deadline of August 31.
According to officials in the PIDA, many farmers who had taken water to irrigate their crops are not willing to cooperate with the Authority which had also formed different farmers' organisations (FOs) for fair water distribution and to contain water theft.
The officials, however, said that there had been major lapses in formation of the farmers' organisations. They added that the election process for the FOs was tainted and most of the chairmen elected were either influential persons or enjoyed their patronage.
The defaulting farmers were also taking support from corrupt patwaris (revenue officials), added the sources, who requested not to be named.
The major hurdlers in collection of the water cess are the old administrative hierarchy and influential persons, who according to the officials, were in a habit of looking the other way at the time of collection of tax.
They further said that yearly record showed that influential landlords were always using the means, such as corrupt FOs, to avoid paying water cess. They added that representation of small cultivators in these FOs was next to nothing.
It may be mentioned that keeping in view the fact that population growth had increased and farmers were not relying on only two crops, farmer organisations were increased from one area water board to five.
At the beginning, only 84 farmers' organisations were formed but now there are more than 300 FOs working in different areas of Punjab: LCC (East), LCC (West), LJC Sargodha, DJC Dera Ghazi Khan, Bahawalnagar and LBDC Sahiwal.
According to the officials, there was one flat rate for water and those farmers who were deprived of water availability due to water theft and other reasons had also to give abiana.
In LCC (East), collection of 66 per cent abiana has been made against the net assessed abiana of 1,862.661; 71 per cent in LCC (West) against the target of 1,059.429; 93 per cent against the target of 83.573 in LJC Sargodha; only 27 per cent in area of DJC, DG Khan against the assessed tax of 299.445; 70 per cent in Bahawalnagar against the set target of 760.576; and 47 per cent abiana against the set target of 646.389 in LBDC Sahiwal.
Curtsey:PAKISTAN TODAY, SEPTEMBER 29, 2015
18th amendment will have consequences for Punjab
The industrial sector of Punjab will face severe consequences with the implementation of the 18th Amendment in the constitution, said All-Pakistan Muslim League (APML) spokesman Fawad Chaudhry on Thursday.

Criticising the Punjab government, Fawad said because of the rulers' incapability, the province was not receiving its due share in the country's resources. He pointed out that load management of electricity and natural gas was the result of Article-270aa of the 18th Amendment which stated that the provinces generating and exploring resources would give electricity and gas to other provinces only after fulfilling their own requirements.

He said, "Punjab has been deprived of its due rights and the decision to commemorate Provincial Autonomy Day is ridiculous." Fawad said Sindh government's decision to impose a toll tax has raised the prices of goods coming from Punjab and Khyber Pakhtunkhwa to Karachi Port and would cause severe consequences to the industry of both the provinces.
The APML spokesman said the incompetence of the Punjab government had caused the industrial hub to shift from Faisalabad to Sindh and in future thousands of people associated with the industrial sector would become jobless. Fawad said the 18th Amendment did not evolve any mechanism for distribution of resources among the provinces and this would fan disparity between the provinces in future.
cURTSEY:PAKISTAN TODAY, JULY 1, 2011
The winds of change and call for ending exploitation may finally release millions of oppressed who for centuries have been exploited in Balochistan, South Punjab, rural Sindh, parts of Central Punjab, KP, and tribal belt. Pakistan's national security and economic progress can only be ensured if equal rights, equal opportunities and security of life are enjoyed by all citizens, irrespective of their caste, creed, sex and ethnicity as provided in constitution.
Inspite of the fact that numerous politicians from South Punjab have held important public offices ranging from PM, CM, Governor, Speaker NA, Provincial and Federal Ministers, this region continues to be deprived of education, health and other basic necessities of life. It is an area where politics is dominated by feudal, gaddi nasheens, big landlords, industrialists and those involved in crime, who by design never allowed education to spread there. However while these politicians send their own daughters and sons abroad for education, they have ensured that if any government has ventured to construct schools, the building is used for any purpose other than education.
Panchayats headed by feudal elite deprive justice to oppressed poor masses. It is an area with the highest number of ghost schools, notorious for crimes against women and forced labour. The powerful ruling elite of South Punjab fear that if masses get education, their political domination stands to be challenged. This void has been filled by madrassas, some of them serving as recruiting grounds for foreign funded fundamentalist involved in terrorism.
It is time the Federal Government ensured that the exploitation of the poor and crimes against women be curtailed through education.
TARIQ ALI
Dubai, UAE
cURTSEY:PAKISTAN TODAY, OCTOBER 26, 2014

The feudals, makhdooms, sardars and Sajada Nasheens of South Punjab have been in power before partition and thereafter, not only at provincial level but at federal level. No benefit will accrue to the millions living in stone ages in this area by creation of a separate province which will be ruled by the very feudal nemesis, who are responsible for their plight. When undivided Punjab was ruled by Unioinist Party, it were these feudal from Zamaidara League who formed a coalition with Hindu and Sikhs to rule this province.
After partition the most powerful civil government which has ruled Pakistan was ZAB's PPP and it was none other than Mustafa Khar, strongest politician of Punjab, followed by several others from this deprived part of Punjab, who enjoyed immense power. While the feudal from South Punjab today own largest sugar mills and are masters of biggest farm houses, the people are illiterate, deprived even of clean drinking water.

South Punjab has the highest ratio of ghost schools and hospitals, where funds allocated were utilized to build infrastructure and hire teachers, doctors etc only on paper, but never was this infrastructure allowed to function and deliver by powerful feudal lobby who by design want hundreds of thousands of deprived to live in abject poverty in the areas under their influence. Billions of rupees have been allocated for construction of roads and bridges, which have been consumed by corrupt local bureaucracy with patronage of powerful MNAs and MPAs of this area. Billions allocated by successive governments to MNAs, MPAs, Senators for development projects have vanished into thin air.

Bridges and roads which if properly constructed should withstand pressures of rains and floods got washed away like sand dunes. The biggest hindrance to development of South Punjab are these powerful feudals whose foreign educated daughters are seen carrying Birken bags, but who would ensure that these deprived millions live forever in deprivation, without any education, never demand equality or even basic rights. No other area of Punjab has such a high rate of female abuse crimes where women are treated even worse than cattle and sheep and minor girls are given away to compensate feuds by panchayats, patronized by none other than powerful political feudal who hold the fort in this most deprived part of Punjab.
SYED JAWAID HUSSAIN
Multan
cURTSEY:pAKISTAN tODAY, AUGUST 28, 2012
Rajanpur most, Lahore least deprived
Deprivation increases in southern, western Punjab, declines in central Punjab: reporta
LAHORE
SOUTHERN Punjab was the most poverty-stricken region of the province in 1998. According to the Punjab Multiple Deprivation Index 2007-08, its population faces the highest deprivation of the basic human needs like income, education, health and water and sanitation.
Punjab has posted the highest growth in the country during the 1999-2008 but the fruits of the growth have been lopsided. The governments, headed by General (Retd) Musharraf and Pervaiz Elahi, paid lip service to the deprived regions of the province.
Rajanpur was the poorest district of Punjab in 1998 according to the Punjab poverty ranking assessed by the then Punjab government where 66 percent of the population was living in poverty. According to the Multiple Deprivation Index of 2007-08 released this week by Punjab government, the deprivation level in Rajanpur is still 63.32 (percent). The most depressing reality in this regard is that the MDI of the district was 59.02 in 2003-04 that deteriorated in the next five years.
The next four most deprived districts of Punjab are also from its southern region, i.e. Layyah MDI 58.85 percent, Muzaffargardh MDI 58.67, Dera Ghazi Khan MDI 56.24, Lodhran MDI 55.29. The water and sanitation deprivation in these districts ranges from 95.85 in Rajanpur to 83.54 in Lodhran.
After them, the other most deprived districts of the province are Khanewal MDI 50.39, Bhakkar MDI 50.65, Khushab MDI 51.39, Chakwal MDI 51.81, Mianwali MDI52.9, Bahawalpur MDI 53.06, Rahimyar Khan MDI 53.52, Bahawalnagar MDI 53.89 and Jhang MDI 54.44. All these districts are from southern and western regions of Punjab.
The least deprived districts of the province are headed by Lahore MDI 16.54 percent followed by Faisalabad MDI31.88, Gujranwala MDI 33.94, Sialkot 34.06 and Sheikhupura MDI 36.67. All these districts are from central Punjab.
Rawalpindi has medium level of deprivation with MDI of 41.35. It has the best education facilities in Punjab with MDI 8.22 percent under this head while Rajanpur with MDI 45.53 has the worst education facilities. In health, Rawalpindi again has best facilities with MDI 9.18 and Rajanpur the worst with MDI of 33.22. In housing, the best in the province is Lahore with MDI of 8.58 while the lowest is again Rajanpur with MDI 57.65. In Water and Sanitation, Lahore tops with MDI 26.33 and Rajanpur the most deprived with MDI95.85. In economic deprivation, again Lahore faces least deprivation with MDI 7.59 while Layyah with MDI 40.70 is the most deprived. The Punjab government report comparing indices of multiple deprivations between 2003-04 and 2007-08 reveals that the deprivation in fact increased in 12 districts during this period most of which were from southern and western parts of the province. In Mianwali, the deprivation level increased by 8.22 percent from 48.88 in 2003-04 to 52.90 in 2007-08. It increased by 7.12 percent in Rajanpur, 6.49 percent in Jhang, 6.36 percent in Chakwal, 6.03 percent in Rawalpindi, 3.85 percent in Sargodha, 3.84 percent in Hafizabad, 2.03 percent in Layyah, 1.09 percent in Bahawalnagar and 1.02 percent in Attock.
The deprivation declined in Sialkot by 24.45 percent during this period. It declined by 19.34 percent in Shiekhupura, 18.76 percent in Lahore, 15.84 percent in Gujrat, 15.53 percent in Bhakkar, 14.87 percent in Narowal, 14.31 percent in Toba Tek Singh, 12.52 percent in Jhelum, 11.76 percent in Kasur, and 10.73 percent in Faisalabad. Baring Bhakkar and Toba Tek Singh the highest improvement in quality of life was attained in the central Punjab.
Curtsey:The News, Tuesday, April 19, 2011
Helping hands: 21% people in Punjab living below poverty line, says minister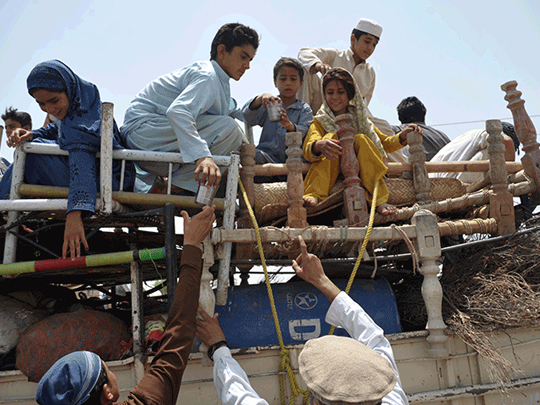 PHOTO: AFP
FAISALABAD / LAHORE:
More than 21 per cent people in the province were living below the poverty line, Zakat and Ushr Minister Malik Nadeem Kamran said on Thursday.
The government is determined to improve the situation, he said in his address at the Punjab Philanthropy Forum-2015.
Acting Governor Rana Muhammad Iqbal Khan, Benazir Income Support Programme Chairperson Marvi Memon, Population Welfare Minister Begum Zakia Shahnwaz, MPA Ayesha Ghaus Pasha and representatives of several NGOs were present.
Kamran said the government was introducing policies to benefit the poor. He said the Zakat and Ushr Department had launched Khadim-i-Punjab Rozgar Scheme under which financial assistance would be provided to those willing to start their own business after acquiring technical training from vocational training institutions.
The minister said philanthropists could deposit their donations and zakat to the account of the department. He said the amount deposited by non-Muslims into the account would only be spent on educating minorities' children. He said the Zakat and Ushr Department distributed Rs3.5 billion among the poor each year under the heads of zakat, marriage grant, scholarships, subsistence allowance and blind allowance.
The acting governor said the government was doing its best for the welfare of the poor.
"Ashiana Housing Scheme, Metro Bus Service and Parho Punjab, Barho Punjab are some of the projects aimed at well-being of the poor," he said. He asked philanthropists to help the government make Pakistan a welfare state. He said other provinces were taking inspiration from public welfare projects in the Punjab. He expressed the hope that the scholars, educationists, government officers, politicians and representatives of national and international organisations would help evolve a joint strategy for ameliorating the condition of the poor.
Memon said economic development and creating job opportunities were the key to alleviating poverty.
Research seminar
Around 60 per cent of the Pakistani population faces food insecurity, said experts at a research workshop on Thursday.
The inaugural session of the eight-day PhD workshop was held at the University of Agriculture, Faisalabad.
The International Centre for Development and Decent Work (ICDD) organised the event in collaboration with the German Academic Exchange Service (DAAD). Scientists from eight countries are participating in the event.
The speakers said that 805 million people faced chronic hunger worldwide, while 1.2 billion people were living in extreme poverty.
UAF Agriculture Faculty Dean Prof Dr Muhammad Arshad said that Third World countries were the most vulnerable to poverty and hunger. "It is imperative to speed up efforts to combat unemployment, hunger and food insecurity by involving all stakeholders. The education level should be raised and skilled manpower should be produced to reduce unemployment," he said. He praised ICDD for taking universities from eight countries to work together for ending hunger. He said they had to work together for the good of society. Sustainable Development Policy Institute Executive Director Abid Qayyum Suleri said that the situation of education, health and poverty had been improving in South Asia for 20 years.                                                                     Published in The Express Tribune, April 17th, 2015.
Punjab's profile of regional backwardness
By Shahid Javed Burki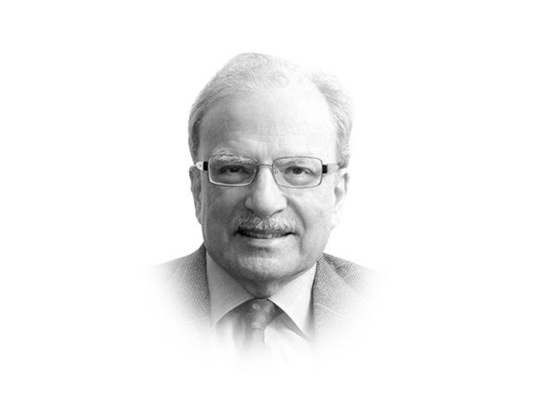 The writer is a former vice-president of the World Bank and a former caretaker finance minister of Pakistan
It is inevitable that an economy of the size of Punjab will have regional differences. These differences are profound in the case of the country's largest provincial economy. From the perspective of making of public policy, the important thing is not only to recognise these differences but to reduce them. By narrowing them, Pakistan will be able to address the problem of regional disparities that has become acute and is posing serious economic and social tensions in the country.
How large are the regional differences in Punjab in terms of social and economic development, how have they come about and what could be done to narrow them are some of the subjects covered in what the Institute of Public Policy (IPP) called the "Punjab story" in its recently released report for 2012. The report focuses on regional disparities since "there has been talk of about creating a new province (Seraiki, Bahawalpur) within Punjab".
Drilling down the analysis of the forces responsible for economic development and social change to the district level provides several important insights. While reading the situation at one particular point in time is useful, what would be even more rewarding is to view the change that has occurred over time. This can be done if the administrative units that are the focus of analysis do not change. This has not happened in the case of Punjab. The number of districts in the province has increased from 19 in the late 1960s to 35 half a century later. One of the major contributions made by the IPP is the reconstruction of past data so that comparisons can be made with the situation at the present.
In order to understand the geographic profile of regional backwardness, the IPP used a variety of indicators to rank the provinces 35 districts according to their level of development. In all, 13 indicators were used in three categories: income and wealth (example: cash value of major crops per capita, value added in manufacturing per head of the population), social development (examples: literacy rate, hospital beds per 1,000 people) and economic infrastructure (example: proportion of households with electricity). A composite development index, ranging from one at the top and zero at the bottom, was constructed. Not surprisingly, Lahore is at the top of the districts with a reading of 0.712 and Rajanpur with a reading of 0.102 is at the bottom. The ratio between the top and the bottom is close to seven suggesting a very wide development disparity. Eight districts with scores of more than 0.525 were classified as developed; 15 were put in the intermediate range and 12 were in the least developed category. In addition to Lahore, Sheikhupura, Rawalpindi, Hafizbad and Sialkot were among the five most developed districts; among the least developed five were Lodharan, Muzaffargarh, Bahawalpur, D.G.Khan and Rajanpur in descending order.
Aggregating the data to the divisional level brings into stark relief the regional disparities in the level of development. There are now nine divisions in Punjab (there were only three in the late 1960s). Among them, Lahore is the most developed largely because of better infrastructure and services. Rawalpindi, Gujranwala and Faisalabad come next. Sargodah and Sahiwal are in the centre of the scale with Multan, Bahawalpur and DG Khan making the bottom of the scale.
One thing is clear from this grading: the southern part of the province is much less developed than the parts in the centre and north of the province. However, there are pockets of poverty in the north and centre and relative prosperity in the southern parts. Relatively poor Attock and Narowal districts are located in the more developed parts of the province while the relatively better-off Multan is surrounded by the province's poor districts. About a third of the provincial population was in each of these three categories.
There has been a significant movement in the relative positions of the districts over time in relation to their relative position on the scale of development. The districts in the centre have gained while those in the south have lost.
Published in The Express Tribune, May 21st, 2012.
Migration and economic backwardness in Punjab
By Shahid Javed Burki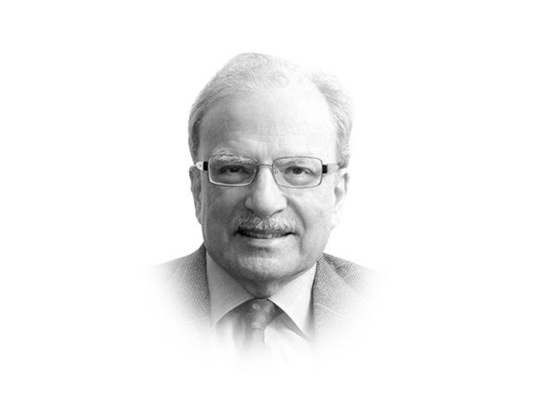 The writer is a former vice-president of the World Bank and a former caretaker finance minister of Pakistan
Staying with the Punjab story as told by the Institute of Public Policy (IPP) in its 2012 annual report, I will today begin to look at what has kept the province's southern districts persistently poor compared to those in other parts of the province. There is a high level of correlation between the incidence of poverty and the level of district development. There is nothing surprising about this result. The incidence of poverty in the southern districts is 43 per cent of the population while that for the province as whole is 27 per cent. It is even lower in the districts in the province's center and north.
Poverty is much more severe in small towns and cities than in the countryside. Migration it appears has played an important role in this context. One reason for this may be that the rural poor choose to relocate themselves in the urban areas in the expectation that more jobs will be available in the urban economy. Economists call this the 'push factor' when poor economic conditions in the place of residence persuades people to move to the areas where there may be better prospects for finding jobs. Opposite to this is the 'pull factor' when it is known that better paying jobs are available in a particular geographic space some distance away from the place of residence.
The push factor is independent of the amount of distance travelled by those who choose to move out. Short distance migration especially in southern Punjab is an example of the push factor. One result of this is that poverty simply gets exported from one place to the other. Just by moving out, the migrants help those who remain behind. However, they bring down average incomes by moving into the urban areas that don't have many opportunities to offer. This appears to have happened in the case of the southern districts of Punjab.
For some reason, those discouraged by their circumstances in the countryside as are the people in the southern districts of Punjab province, have preferred to relocate in the nearby towns and cities. They seem to avoid long-distance migration. There are, accordingly, relatively few people from these districts in the well-populated Pakistani diasporas in the Middle East, Britain and North America. A good example is out-migration from Gujrat district situated on the border of central and northern Punjab. The people from this district are to be found in many distant places. They constitute the bulk of the Pakistani population now resident permanently in Norway. I was once told by the Norwegian ambassador to Pakistan that one percent of her country's population was made up of Pakistanis. In Oslo, the country's capital, Pakistanis accounted for 10 per cent of the population. Most of these people were from Gujrat district.
Outmigration from Gujrat to Europe offers some interesting insights not only for understanding why people move but also of the choice of their destinations. Once it was appreciated in the district that migration was an important and effective contributor to poverty alleviation, people began to look actively for the opportunities that were available. The Gujratis took advantage of the path discovered by illegal migrants from North Africa to Spain to join this stream of migration. There is now a fairly large community in Barcelona of the people from this district.
Karachi's growth, on the other hand, is a good example of the pull factor. Millions of people who have left their homes in such poor areas as the tribal regions of Khyber-Pakhtunkhawa (K-P) and the barani areas of north Punjab and Azad Kashmir and moved to Karachi. By doing so, they have generally improved their economic situation. They also help the places from which they come by sending back remittances. These have become important contributors to the incomes of the areas such as North Punjab and K-P. Although in its Punjab study the IPP did not do work on the impact of remittances on economic and social development, there is good reason to argue that this must have been positive.
For some reason, which sociologists and anthropologists need to ponder on, is that there are areas that send out more migrants compared to other places. In the case of Pakistan, the people from K-P and northern and central parts of Punjab have been more inclined to travel long distances in search of jobs than those who live in South Punjab, Baluchistan and Sindh. Demonstration affect may be one reason why people from some areas find long-distance migration to be a reasonable way for addressing their poor economic circumstances. Once remittances from those who have gone to distant places begin to arrive they provide incentives for those who are under stress for economic reasons to also contemplate migration. Also, once people from a particular area have formed communities of their own in places such as Karachi, Oslo and Barcelona, it is easier for the newcomers to get settled. Pioneering migrants have much more difficult time in creating opportunities for themselves in their adopted homelands. It is much easier for those who follow them.
Pakistan's economists, in particular those who study the country's history, have not paid much attention to how migration has contributed to development. A better appreciation of the links between the movement of people and its impact on economic development and social change will lead to the making of better public policy.
Published in The Express Tribune, May 28th, 2012.
The Punjab story
By Shahid Javed Burki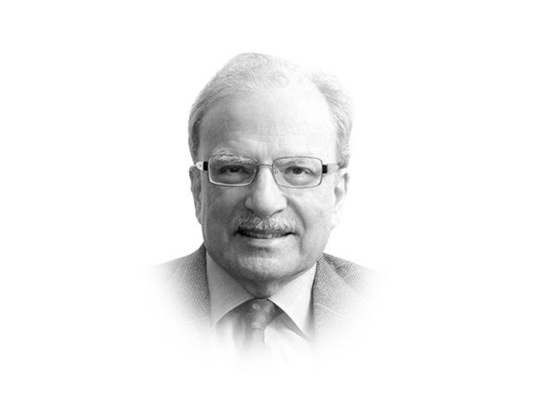 The writer is a former vice-president of the World Bank and a former caretaker finance minister of Pakistan
It will take more than one short article to tell what the Lahore-based Institute of Public Policy (IPP), Beaconhouse National University, calls the "Punjab story". This is the subtitle of the institute's fifth annual report launched on May 2, in Lahore. As has been the practice in the past five years since the institution's founding in the fall of 2006, the annual reports come in two parts. The first deals with the state of the economy at the time of the writing of a particular year's report. In each year, since the first report was published in the spring of 2008, the mood of the authors has become progressively more sombre and their predictions for the future of the economy increasingly dire. This year, they have concluded that the economy may be heading towards another major crisis unless remedial action is taken by those who currently hold the reins of power in Islamabad and the four provincial capitals.
The other important recent development in Pakistan is the devolution of considerably greater executive authority to the provinces. This happened as a result of the passage of the Eighteenth Amendment to the Constitution in 2010, which was preceded by the announcement of the Seventh Award by the National Finance Commission (NFS) in late 2009. The NFS has significantly increased the flow of resources from the centre to the provinces. The Eighteenth Amendment has greatly expanded the scope of provincial operations, making it possible for them to do what could not be done under the previous constitutional dispensation.
It is for this reason that we in the IPP thought that it would make a good deal of sense to start writing the provincial development stories. In the report for 2012, we tell the Punjab story which will be followed in the coming years by the stories of other provinces. It made sense to start with Punjab. It is the largest province in the federation in terms of the share in population as well as in the national product. It is also the most important gateway to India as the trade between the two long-feuding nations is revived after a lapse of almost six decades.
A trip to the Wagah border is a good indication of the interest the city's citizens have in the opportunities that will become available once trade begins to flow without many hindrances. Every late afternoon, thousands of Lahore's citizens take the trip to the border with India to watch the elaborately choreographed 'changing of guards' ceremony.
That this show will become a part of the history is shown by the massive infrastructural development at a stone's throw from the old border. A new gateway has been constructed there to facilitate trade between both countries. As we drove to the old border to watch the change of guard ceremony, we saw scores of trucks laden with Pakistani gypsum to be taken across the border to feed India's growing appetite for cement. We were told that a convoy of trucks was also waiting on the Indian side bringing in fresh agricultural produce to Pakistan. The composition of this trade will change enormously as the current restrictions on trade are removed. This will happen as the two countries continue to press for the normalisation of economic and trade relations among them.
Punjab is the province that is likely to be affected the most by this development. This development along with the process of devolution of economic authority to the provinces is the reason why the IPP decided to focus our attention on provincial development. The Punjab story is also important since it provides a menu of options for the policymakers to take full advantage of provincial dynamics to rescue the Pakistani economy from the current slump and hence, it is the focus of the IPP's 2012 report. What the story is, will be the subject for the next few columns in this space.
Published in The Express Tribune, May 7th, 2012.
Progress card: Punjab's economy not looking so bright
By Aroosa Shaukat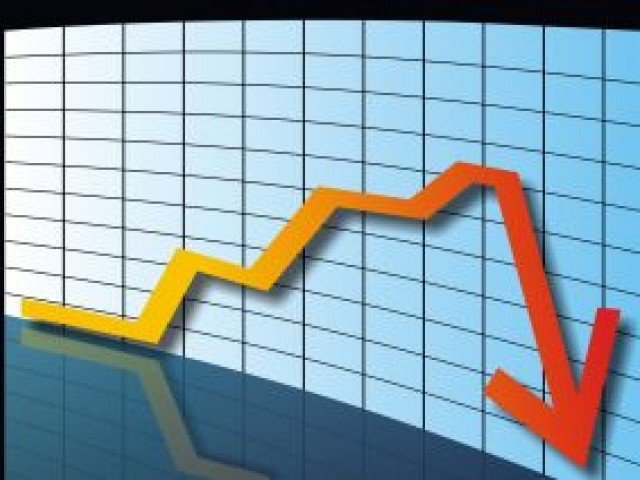 While the economy had done poorly throughout the country, Punjab had done far worse.
LAHORE:
The government might have "significantly overstated" Punjab's growth rate. This was revealed at the launch of the fifth annual, The State of Economy: The Punjab Story, report of the Institute of Public Policy at Beaconhouse National University on Wednesday at the Lahore Grande. Institute of Public Policy Vice Chairman and Dean of School of Liberal Arts and Social Sciences Dr Hafiz Ahmed Pasha said Punjab's economy had a slower growth rate over the past decade compared to the rest of the country due to the scarcity of irrigation water and the energy shortfall. He was speaking at the launch of the report.
Dr Pasha said while the economy had done poorly throughout the country, Punjab had done far worse. From 2002-03 to 2009-10, Dr Pasha said, the agricultural sector in Punjab had only a 3 per cent growth rate as opposed to a 5 per cent growth rate in the rest of the country.
Dr Pasha said that from 2006-07 to 2009-2010, gas consumption had gone up by 14 per cent in the rest of the country but in the Punjab it had declined by 13 per cent.
The report states that there was a decline in "regional inequality" in all districts of the province, the trend being most pronounced in provision of social services. "Despite there being demands for a new province, the Punjab has the least regional inequality amongst the provinces," said Dr Pasha. However, he said, a separate south Punjab province would be "food sufficient."
The report goes on to state that regional inequality had increased in terms of some social indicators including secondary education, sanitation, health services and water supply. The report says that with limited access to infrastructure and social services districts in south Punjab are less developed, a phenomenon termed a "classic North-South" divide by Dr Pasha.
Beaconhouse National University Vice Chancellor Sartaj Aziz said long term projects in hydel power should be taken up seriously to limit energy dependency on foreign sources. Aziz said with the country entering the election year it was essential that such reports be used to establish policy guidelines for the current as well as the prospective government.
LUMS pro-chancellor Syed Babar Ali said that over the past several years, the country's economic policy had never addressed the needs of the common man to ensure his welfare. Ali said scholarly critique should be used by policy makers to strengthen institutions. "Never put an inefficient person in charge of an efficient person" said Ali.
Planning and Development Department secretary Ali Tahir expressed dissatisfaction with the "methodology" used in the compilation of the report. Tahir said that urban development paved way for economic growth of any country and hence growth in cities, like Lahore, Multan and the like, was of immense significance.
"The year 2012 promises to be yet another difficult year economically', said Dr Aisha Ghaus Pasha, the director of the Institute of Public Policy. Dr Pasha said Pakistan, particularly for Punjab, would be facing a period of "great financial difficulties." She identified lack of political stability and shortage of energy as hurdles in economic growth. She said there had been a growth in the rural economy along with an increase in revenue collection showing the 'resilience' of the economy.
"Good governance and zero tolerance for corruption will tackle the economic crisis in the next 3 to 4 years," said MNA Ahsan Iqbal. Iqbal said the debate about a new province in Punjab should be set aside until there was greater stability adding that a new province was bound to demand a new "NFC award and a water accord."
Published in The Express Tribune, May 3rd, 2012.
Punjab to develop economy through
development of mega projects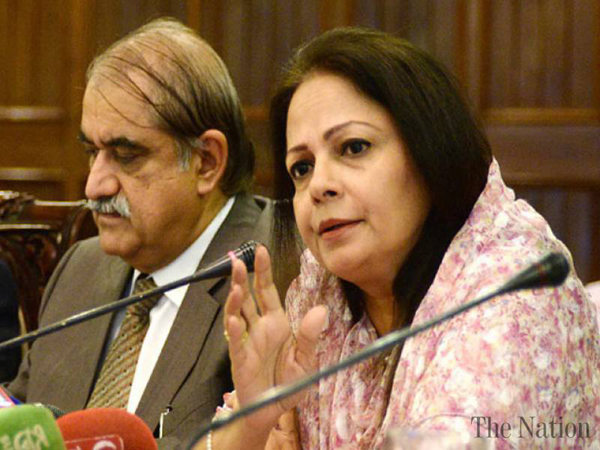 LAHORE
Punjab Finance Minister Ayesha Ghous Pasha on Saturday said that the Punjab budget 2015-16 is focused on revival of economy as stabilization has been achieved in the province. Addressing a post-budget conference here at CM House, she said that the budget for the fiscal year 2015-16 would enhance local as well as foreign investment on large infrastructure projects to spiral economic growth to 7-8 percent and create jobs to absorb one million youth annually.
"We want to double private investment in two years, she said and added the government investment plan is in line with the Punjab Growth Strategy 2018 to spur growth to 7-8pc a year, create one million jobs, help double private investment and eliminate terrorism from the province by 2018."
She said that government will develop economy of the province through development of mega projects in power, roads, urban transport and water sectors as ADP has been increased by 16 per cent to Rs400 billion next year from the last year of Rs345 billion.
The minister said that the Punjab government withdrew sales tax on internet services, however it brought in 10 more services in the tax net for broadening the tax base.
The 19.5% tax on internet services, which was imposed via a notification in May, was not included in the Finance Bill as the Punjab chief minister didn't approve it after a series of protests by telecommunication and internet companies and other digital stakeholders.
As proposed in the bill, 10 new services brought under the tax net include public relations services, services provided by chartered accountants, auditors, corporate law consultants, air travel and transportation of goods by air (previously taxed by the federal government), chartered flights, hiring of equipment and machinery services, debt collection services, supply chain management services, photography services and sponsorship services. Providing justification for including the new services in the tax net, the minister claimed that inclusion of these services will bring further equity in the Punjab sales tax base and also harmonize the tax system with other provinces. The provincial government through the bill also imposed a tax on immoveable property in rural areas.
It has withdrawn the exemption given to immovable property in urban areas valuing Rs1 million in a bid to enhance equity in taxation on immoveable property transactions.
She said that the PRA may prescribe prize schemes to encourage the general public to make purchases only from registered persons issuing tax invoices.
The provincial tax estimate for the next year has been cut by 2.4 percent to Rs160.6 billion from the present fiscal target of Rs164 billion as the actual collection is estimated to have fallen short of the target by 31 percent. She admitted that the government is going to miss its investment target for the outgoing year by 10-20 percent of the original target. She blamed it for shortfall in federal transfers from the divisible tax pool because of Federal Board of Revenue's failure to collect the targeted tax. She said that almost four-fifth of Punjab's income will come from the federal divisible tax pool. The provincial tax revenues will form just above 14 percent.
She said that Punjab government has allocated a record amount of Rs303 billion for the development of South Punjab in the next year budget. Dr. Ayesha Ghaus Pasha said that PML-N government has allocated more funds for the development of South Punjab than its population. More than 300 billion rupees have been allocated for ten mega projects of South Punjab in the budget of 2015-16. An amount of Rs. 26 billion has been allocated for metro bus project in Multan. Similarly, 30 billion rupees will be spent on the provision of saaf pani to the people of 11 districts of South Punjab. An amount of Rs. 150 billion will be spent on Quaid-e-Azam Solar Park Project in Bahawalpur. 67.50 billion rupees will be spent on the repair and construction of roads in villages.
Curtsey:The Nation, Jun 14, 2015.