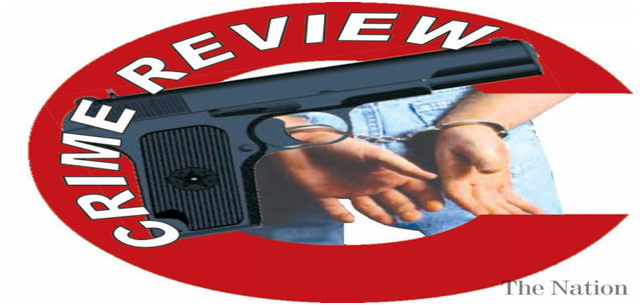 Ashraf Javed
LAHORE - Several officers of Police Service of Pakistan last week appeared before the Punjab
chief minister and reportedly they were interviewed for new postings as district or regional
police officers.

It was unclear yet whether they were called by the CM office or the police department for-
warded their names. During interviews, according to insiders, the officers were looking
confident like they were on the day when they had appeared for an interview after success
in CSS exam.

CM Shehbaz Sharif himself interviews police officers before "ordering" their postings on key
slots in the province. Of course, he himself suspends the same officers when they put his
government in trouble by doing 'Police Gardi' or any other wrongdoing.

The provincial government claims 100 per cent merit policy in government departments but
the ground situation tells the other side of the story. For an instance, the provincial govern-
ment up-graded a post to accommodate one DIG rank officer. He was posted on the post of
SSP and later an officer of the SSP rank was posted on the same slot. Similarly, some SSPs
are working on the posts of DIGs.

Those who appeared before the chief minister to get lucrative posts included DIG Shahzad
Sultan, Sohail Habib Tajik, Raja Riffat Mukhtar, Syed Khurram Ali, Dr Moeen Masood, and
Afzal Mahmood. SSP Ashfaq Ahmed, Rana Shahzad Akbar and Azhar Ikram were also among
those interviewed.

A few police officers who spoke to The Nation on the condition of anonymity said they were
denied important postings since they did not prefer to be interviewed. Some seasoned
officers are waiting for field postings since years at the central police office. They are being
kept away because some people don't feel comfortable while working with them.

During an informal chat, a senior official described governance as "very good" in the Punjab
province as compared to Sindh. He stated that the district police officers are posted in
Punjab on basis of favouritism or recommendation of 'someone'.

"In Sindh province, police officers have to pay bribe influential persons to get lucrative posts."

Several officers were given field postings as district and regional police officers on the request
of "powerful" quarters, according to sources at the central police office. Several important
posts are lying vacant in the police department in Bahawalpur, Gujranwala, DG Khan and
Lahore districts.

Also, in this province, the station house officers and circle officers are posted on the request
of MNAs, ministers and other influential individuals. Once a senior politician stated "it is the
right of the politicians to get the police officials posted as SHOs at the places of their own
choice since they are public representatives."

Under the present scenario where politicians are virtually running the affairs of the police
department, the talks of change in police culture (Thana culture) seem unrealistic. This
transfer and posting policy also indicates that the PML-N leadership is no more serious in
bringing positive changes to improve the policing.

The DPOs and RPOs are appointed by the chief minister himself while the DSPs and SHOs
are posted on the orders of ministers and influential politicians. Corruption is rampant in
the police department because of such transfers and postings policy.

Extortion by the police is also on the rise. Many constables take bribes from hawkers,
roadside food stalls etc. Brothels, gambling dens, organised crime syndicates, and trans-
porters are also a major source of income. Even for passport verification, money is
demanded. This has to stop. The government must take initiatives to discourage the
'hafta' (weekly) and 'monthly' culture.

In Lahore, police stations having highest crime rate are regarded as the "best police
stations". In such stations, the policemen collect huge monthly income from narcotics
dealers and those running brothels or gambling dens. The postings and transfers are
ordered on someone's recommendations.

Most of the SHOs collect 'monthly' from brothels, guesthouses and gambling dens. The
monthly income of the high-income police stations varies from one million to two million
rupees, depending upon the numbers of brothels, drug dealers and gambling dens in
the area.

Lahore's police stations including Nolakha, Tibbi City, Qila Gujjar Singh, Naseerabad,
Sabzazar, Lorry Adda, Shafiqabad, Shadbagh, Baghbanpura, Shahdara, Defense-A,
Nawan Kot, Satu Katla, Badami Bagh, Factory Area, and Kot Lakhpat are considered
A-One police stations from where police generate more than Rs2 million 'monthly'
income.

According to a recent study conducted by The Nation, every third policeman was pena-
lised on different grounds last year in the Punjab province. Most of the subordinates
were punished over absence from duty while senior officers were punished over
corruption and misuse of power.

Out of the total 180,000 strong Punjab police force, at least 61,404 cops were punished
in 2016 while in 2015 the department had awarded punishments to 57,318 policemen.
The police strength has increased over the years and so has corruption.

Most of the officers who were fired by the department on different grounds in recent
years are back in business, thanks to Thana culture in the Punjab province. Also, a
great number of officers skip punishments during departmental inquiries by using
their connections.

The scale of punishments given to a large number of officers reflects poor discipline
and rampant corruption in the country's largest law enforcement agency. The police
department needs to appoint clean and dead-honest police officers as district police
officers and station house officer to ensure justice at the grass-root level. But there
are only a few dead-honest officers in the department and they are often denied
important postings.

Unfortunately, most of the postings in police are made on political recommendations.
The influential groups recommend officers who appear to be more loyal to them
rather than the department.

There will be no positive and visible change on the ground unless the pressure groups
and influential are discouraged. If the transfers and postings will be made purely on
merit, things will improve automatically. But who will do this is a million dollar question.
Who will say no to the powerful and important individuals?
Source: The Nation, May 08, 2017
Send email to nazeerkahut@punjabics.com with questions, comment or suggestions
Punjabics is a literary, non-profit and non-Political, non-affiliated organization
Punjabics.com @ Copyright 2008 - 2018 Punjabics.Com All Rights Reserved
Website Design & SEO by Webpagetime.com