Folk Punjab
The Ustad of Ustaads
Reviving the art of story telling
Re-imagining Raja Rasalu in the present
Punjabi Folklore
Lok mela presents cultural identity of Punjab
Throwback to a waning era, and story-telling style
Folk songs of Punjab
Love legends of Punjab
Lohar a trendsetter in folklore
Festivals of spring
Shehnai: Tunes of tradition
Punjabi Kisse
Call to revive folk dance at seats of learning
UZAIRAKHAN

LAHORE, March 12: It's time to revive all forms of the Punjabi folk dance at higher education institutions that had been banned over the last three decades of "cultural suppression" extensively propagated during the Zia regime.
This was the message organisers of the second Punjab Folk Dance Festival conveyed to hundreds of charged students performing Bhangra in front of the Allama Iqbal Medical College (AIMC) auditorium at the conclusion of the festival on Sunday night. The festival was organised by non-government cultural organisation Punjab Lok Rahs in collaboration with the AIMC Dramatics Society. As many as 105 folk dancers from 13 educational institutions of Lahore, Faisalabad and Sahiwal participated in the festival and performed Ludi, Bhangra, Sammi, Gidda, Dhrees, Jhoomer of Ravi, Gattka and Sufi dance.
These dances were produced in a three-month long series of workshops organised by the NGO in Lahore, Faisalabad and Sahiwal. Students from various universities of Punjab and schools had been participating in dance workshops.
Sunday's event was continuity of the festival, which started on Feb 1 to mark the International Mother Language Day.
NGO's coordinator Qaisar Abbas said dance teachers like Beena Jawad, Nighat Chaudhry, Arif Panwar and Zahoor Hussain had been engaged to conduct the workshops in which around 100 university students were also participating. "The festival aims at connecting the educated youth to their rich language and the cultural heritage of Punjab," says Abbas.
Students from the University of Veterinary and Animal Sciences, Lahore; Comsats Institute of Information Technology, Lahore; University of Gujrat, Gujrat; University of Engineering and Technology, Lahore; FC College University, Lahore; Punjab University, Lahore; School of International Studies in Sciences and Arts, Lahore and Bahauddin Zakariya University, Multan and Sahiwal participated in the festival. Kathak dance queen Nighat Chaudhry told Dawn that dance was the collective expression of land and soil so it had to be rooted in the youth. "Dance brings happiness, joy and smile," she told the audience at the jam-packed AIMC auditorium. The festival concluded with a joint Bhangra in front of the AIMC auditorium late on Sunday nigh
Curtsey:DAWN.COM, — PUBLISHED MAR 13, 2012
Heer Ranjha : Lok Virsa launches film club with screening of classic Punjabi film
Photo: Huma Choudhary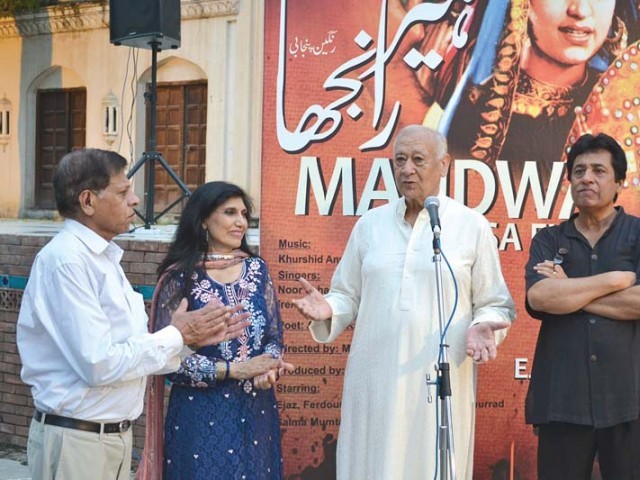 The film was directed by Masood Pervaiz, one of the finest directors Pakistan has ever produced. PHOTOS: HUMA CHOUDHARY/EXPRESS
ISLAMABAD: 'Heer Ranjha', one of the classic Punjabi romantic films, was screened at Lok Virsa with the launch of Mandwa film club on Saturday.
Ejaz Durrani, producer of the film and one of the prominent artists of Pakistani film industry of yesteryears, attended the event as a guest of honour. Film director Syed Noor was the chief guest.
Film critic Ijaz Gul, who is also the Mandwa film club coordinator, said that many attempts have been made to recreate the folktale, most notable being the Hindi film Heer Ranjha, directed by Chetan Anand.
He, however, said if given the choice he would pick Ejaz Durrani-produced and starred 'Heer Ranjha'. Both these films were produced in 1970.
Noor said he watched the movie a number of times when it was first released in 1970 and a learned a lot from it. He said no other film could portray the story of Heer Ranjha as good as this movie did "just as no writer could match the brilliance of Waris Shah".
Appreciating the film club initiative, Noor said he had first heard the word 'mandwa' when he was a child and when youngsters were not allowed to watch mandwa films.
Durrani, who played role of Ranjha in the movie, said there was a need to preserve classical movies.
Lok Virsa Executive Director Dr Fouzia Saeed said the film club is an attempt to own and celebrate Pakistan's folk culture.
"Civilised societies are conscious about and always proud of their classics. We want to inculcate the same attitude in our film makers," Saeed said.

The film was directed by Masood Pervaiz, one of the finest directors Pakistan has ever produced. PHOTOS: HUMA CHOUDHARY/EXPRESS
The film was directed by Masood Pervaiz, one of the finest and talented directors Pakistan ever produced. Its music was composed by Khawaja Khursheed Anwar, one of the genius legendary music composers of the subcontinent. The duo produced a number of classic movies in the golden days of the Lollywood.
Its screenplay, dialogue and songs were written by noted poet Ahmad Rahi. Based on the Punjabi folktale 'Heer', written by great poet Waris Shah, the movie beautifully depicts the real culture, life of Punjab.
The film revolves around Heer, a girl born into a wealthy family, and Ranjha, the youngest of four brothers, whose journey from his own village takes him to the village where Heer lives after the wives of his brothers refuse him food and mock him. He falls in love with Heer after she offers him work tending cattle. However her jealous uncle Kaido has other plans and makes sure their marriage does not happen.
When Heer is subsequently forced to marry another man, she enters a shrine. Ranjha eventually finds her. Their happiness does not last long, as Ranjha is arrested by the local ruler, although he is soon freed and permitted to marry Heer.
On their wedding day, Heer's uncle poisons her. Ranjha kills Kaido and then dies, meeting Heer in the afterlife.
The film club will be screening two classic movies every week for its members.
Curtse: The Express Tribune, August 3rd, 2015. By Staff Reporter
Khaled Anum wants more from 'Peera Ho'
By Hasan Ansari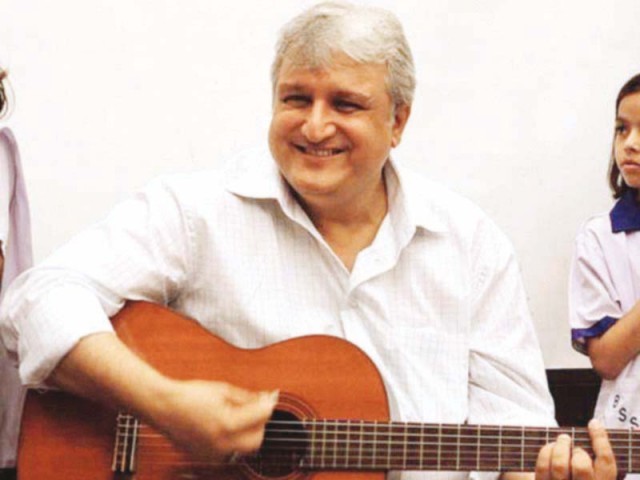 Khalid Anum's rendition of Peera Ho became an instant hit after it was released as part on Mystery Theater in early 1990's. PHOTOS: FILE
KARACHI:
With EMI and the makers of Bajrangi Bhaijaanhaving dominated the news for the past few weeks due to the stand-off over the copyrights of Bhar Do Jholi, a similar controversy – although lighter in nature – seems to be building up regarding String's use of the songPeera Ho.
Speaking to The Express Tribune, Khaled Anum who famously produced his own derivative of the Shah Hussain kalam expressed his dismay at the director and music producers of Moor, Jami and Strings, for using the song without his consent.
"The credit that lyrics are by Anwar Maqsood is incorrect," stated the singer. According to the veteran singer even the arrangement of the song is very similar to the rendition he had done more than a decade and a half ago for an episode of Mystery Theater.
Read: 'Moor' and 'Dekh Magar Pyar Say' to battle it out on Independence Day

"I am sure that if anyone hears the track, the first thing they would say is that this song has previously been done by Khaled Anum," he added.
Although Faisal Kapadia from Strings refused to comment on the matter, Jami the director of Moor clarified that as far as they were concerned they had all the bases covered. "We had spoken to Arshad Mehmood and EMI regarding Peeran Ho and they told us that it was a folk song and we were free to use it," explained Jami.
He did acknowledge that attributing the lyrics to Anwar Maqsood could've been a 'mishap' and people should not read so much into it as, "Such things tend to happen."
However, representatives of EMI Pakistan denied giving any suggestions to Jami regarding Peera Ho.
Read: Moor trailer released and it's pretty impressive!
Anum, known for his work on television, stage and music, had said that as far as he was concerned he had no problem with the poetry and was more focused on the "credit and rendition of the song".
"There is something called ethics. I have known Strings and Anwar Maqsood for a long time and I had expected them to at least give me a phone call, informing me that they were doing their own rendition of the song – I wouldn't have said no."

Anum, who is not looking to contest this matter or press for persecution noted that he was only seeking credit – not just for himself but all those the song concerned. "I have always given credit to Saeein Khawar whenever I have done this song. Even Saaein Akhtar (son of Saeein Khawar) asked me for permission when he performed this song, saying that it was now my song after his father's death – that is respect."
Peera Ho was initially released with a video on Music Channel Charts, produced by Combined Productions, after which it was once again released by the record label Sound Masters during the late 1990's.
Published in The Express Tribune, July 31st, 2015.
Revisiting Punjabi classics
By IANS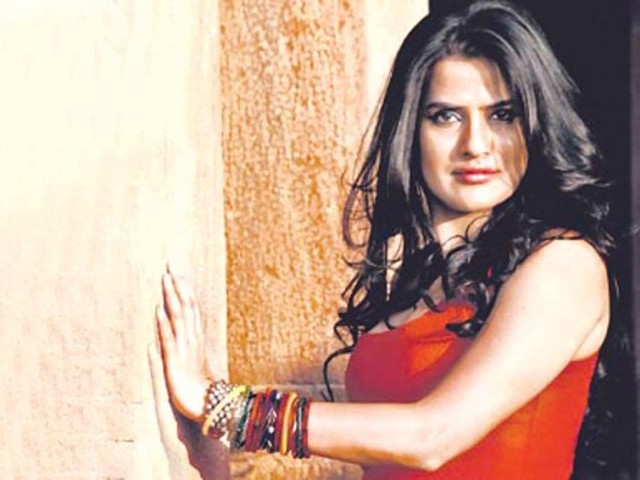 Sona believes that no kind of playback singing can beat the experience of a live concert. PHOTO: FILE
NEW DELHI: Singer Sona Mohapatra, famous for tracks like Ambarsariya and Bedardi Raja, says she loves to perform on stage and there is nothing else that fuels her like a live audience.
"A live audience fuels me like nothing else and I really live to be on stage. It is as important as oxygen. It's a very emotional thing to be on stage and to make people happy and to get them to give you that love in return," Mohapatra said in an interview.
She added that she doesn't consider herself as just a singer but a storyteller. She interprets songs like they are part of a larger narrative and her job is to find an emotion, a mood and a whole colour palette in which she can stay in. This is why the range of her songs varies from Mujhe Kya Bechega Rupaiya to Ghar Yaad Aata Hai Mujhe for Aamir Khan's Satyamev Jayate.
Asked if she has a special connection to classical and folk music, she said: "Absolutely, that's where my roots are, that's the kind of music that I like. While growing up, I barely listened to any English music. Thumriwas the genre (of Hindustani classical music) that I loved the most. Folk music made me dance more than anything.
"It's a deep-rooted love for these forms, yet I'm someone who loves dance music too, like electronica in the right space is amazing."
Mohapatra, who launched a cover version of Madam Noor Jehan's Neher Vale Pul as the debut song of her new album Punjab Project — Volume 1earlier this month, said the new album introduces old legends of Punjabi music to the new generation.
"There is a whole lot of music and poetry to be explored in Punjab. The 'Punjab Project' is about paying a tribute to that and yet we're taking a risk in saying that we want to put it in an electronica sounsdscape to let the new generation discover those legends and try and do something from our side and innovate," she said.
Curtsey:The Express Tribune, July 21st, 2015.
Reshma, Pakistan's 'first lady' of folk music
By Reuters

Reshma, who died earlier this week after a battle with throat cancer, was best known for her distinctive rendition of Punjabi folk songs. PHOTO: REUTERS
Folk singer Reshma was born in 1947, the historic year when India and Pakistan gained independence from British rule. She was born in India, but her family migrated to Pakistan when she was a month old. Small wonder, then, that Reshma's unconventionally husky voice won admirers on both sides of the international border.
Reshma, who died earlier this week after a battle with throat cancer, was best known for her distinctive rendition of Punjabi folk songs. For her fans, she was the "Nightingale of the Desert" and her death at the age of 66 was a fresh blow to the arts in Pakistan, coming a year after ghazal singer Mehdi Hassan's death.
Despite her fame, Reshma was modest. She dressed conservatively in a salwar kameez and was rarely seen without a dupatta covering her head. And her mehfils (public performances) were devoid of histrionics.
"Reshma was a magician who could kill with her voice. She was the first lady of Pakistani folk music," Shaukat Ali, Reshma's friend and a folk singer, said by phone, speaking from Lahore, Pakistan.
Reshma's talent was discovered in the 1960′s by a former Radio Pakistan producer, who heard her singing at the shrine of a Sufi saint. The young girl, used to singing in the open, was petrified when she saw a recording studio for the first time.
"She refused to enter the studio, and said a man was standing inside, referring to the pillar-like structure that was actually the microphone," said Sarvat Ali Khan, a Radio Pakistan producer, whose father composed most of her songs.
Reshma made a successful debut on radio, and her rendition of "Dama Dam Mast Qalandar" — a traditional song praising a Sufi mystic in spiritual ecstasy — was her first hit.
Perhaps her most famous song is "Lambi Judaai" (A Long Separation), which Reshma sang for her Bollywood debut in 1983.
Indian filmmaker Subhash Ghai heard Reshma singing live during her first visit to the country of her birth. It was the early 1980′s, a time when the singer met late Prime Minister Indira Gandhi and sang at private mehfils, including one at filmmaker and actor Raj Kapoor's house.
Ghai remembers how Reshma sat still and avoided meeting anyone's eyes while singing.
"Her singing was so powerful that her words resounded without the microphone," the director said.
Ghai told India Insight that he had to persuade a sweating Reshma to sing for his film "Hero". The song 'Lambi Judaai' put to good use the characteristic forlornness in the singer's voice and played a part in the film's success. It was to be Reshma's signature song in Bollywood.
"Subhashji, I didn't know this song will be so popular. Wherever I go, people just want to listen to this song," Reshma later told Ghai, he said.
In 2006, she took a ride on the inaugural Lahore-Amritsar bus service that linked cities in India and Pakistan. In an undated YouTube audio recording from one of her Indian concerts, Reshma referred to the strained relations between the two nations: "If we give each other love and respect, then no witch can destroy us."
Towards the end of the century, Reshma was diagnosed with cancer, but continued to sing. Her last overseas performance at London's Brunei Gallery happened more than a decade ago. "The Nomad", her final album, was released in 2005. Three years later, Pakistani pop singer Atif Aslam paid tribute to her at a show in Karachi.
Reshma's last photograph could possibly be in this blog post by a Pakistani journalist, in which the singer — frail, ailing and barely recognizable — is seen with her friend Shaukat Ali.
Reshma shunned commercial success during her career, and according to Ghai, had no money left when she died. Media reports said former Pakistan President Pervez Musharraf helped her pay off a loan with a grant of 1 million rupees.
"Our country has seven musical notes, like any country. The eighth note that Reshma had is now gone," Sawan Khan said of his mother, quoting a line from a Pakistani newspaper
Curtsey:The Express Tribune, Published: November 9, 2013
Lahore – Where art thou culture?
TAIMOOR-FAROUK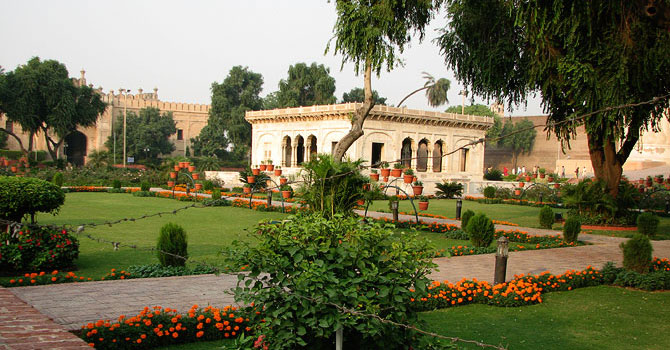 A view of Hazoori Bagh, which is fenced with barbed wire. While half a dozen gardeners work all day to prepare the lawn for the next Independence Day ceremony or a foreign delegation, the fact of the matter is that it remains closed to the literary circles of the Walled City. – Photo by author
Visualise a sunset over a 16th century Mughal fort and a 17th century royal mosque. Under this view people in the courtyard of these monuments gather to participate in renditions of one of the most profound and timeless works of Punjabi poetry.
This scene is not a page recreated from Arabian Nights but a distinct feature from the culture and heritage of 'Lahore, Lahore Hai!'
Until the early 1980s, gardens and open spaces in Lahore's Walled City, served as places where people frequented to break the monotony of their lives as well as take part in cultural activities. Discussion forums, get-togethers and literary renditions by singers and poets in these spaces were a part of their being and life.
Popular folklore like Heer Ranjha was delivered in poetical colours known asHeer Khawani.
Khurshid Ahmed, who spent most of his lifetime in the Walled City, fondly recalls "there were only two books which people had memorized by heart – the Holy Quran and Heer Waris Shah."
Khurshid, now 63, remembers that the most popular venues for such activities of cultural bondage were Hazoori and Ali Bagh, within the confines of the Lahore Fort.
"Every evening, people would bring chaadars along and sit in groups at Hazoori. The poets would take turns and there was a permanent revered place for them in the courtyard," he says.
Waris Shah's version of Heer Ranjha, penned in 1766, earned unrivaled popularity and illuminates the tragedy of two lovers in Punjabi culture. The affinity to this folklore was such that "to forget couplets from Heer was considered a cardinal sin and when singers forgot or made mistakes the listeners were quick to respond and correct them," laughs Khurshid.
Khurshid also recalls his long gone memories of visiting the abode of another famous Punjabi poet, Ustad Daman, renowned for his political critiques. Daman today is famously recalled as the poet of the Walled City.
"In addition to sharp wit and tongue, Daman was also an accomplished cook," Khurshid exclaims.
Daman, a tailor by profession, had taken a small room behind the Fort, near Taxali Gate. Renowned poets and artists like Faiz Ahmed Faiz and Abdul Rahman Chughtai frequently visited him at his humble abode.
After Daman's death, a number of his students decided to keep the legacy of Daman and Punjabi poetry alive and converted his abode into the Daman Academy.
Advocate Iqbal Muhammad Iqbal, one of the disciples of Daman, manages this academy today. "Modernisation has made Lahore's Walled City lose its charm and heritage as the vanishing gardens have confined the activities of its literary society to almost nil." he says sadly.
"Taxali Bagh has been commercialised. The trees in Nasir Bagh and around Minar-e-Pakistan were destroyed during Zia's era."
"Hazoori Bagh, the last remaining gathering place also met a similar fate and thus the literary mehfils came to an end," he says.
Iqbal's sadness makes sense. Hazoori Bagh is fenced with barbed wire nowadays. While half a dozen gardeners work all day to prepare the lawn for the next Independence Day ceremony or a foreign delegation, the fact of the matter is that it remains closed to the literary circles of the Walled City.
Deputy Director Punjab Archaeology, Maqsood Malik, asserts another perspective: "Times and lives of ordinary people have changed." This may be a major factor for literary activities vanishing from the cultural fabric of Lahore's Walled City.
"Television, cinema and other activities have replaced the literary sources of entertainment for which Lahore was famous for," says Malik
Malik views the loss of public places and gardens in the Walled City to 1970s and 80s, which ushered in rapid urbanisation.
All said and done, Lahore still resists changes in its cultural fabric. On Sunday afternoons in a corner of the Lahore Fort, a small group of people gather to recite Heer. However the audience is lacking, indicative of the fact that people of the Walled City no longer consider these activities as a source of cultural bonding.
Perhaps nothing is of permanence – the law of nature remains cardinal.
Taimoor Farouk is a freelance journalist.
Curtsey:DAWN.COM, — PUBLISHED NOV 12, 2012
Sufi Soul: Of stories and cultures through dance

You don't often come across a yogi dancing simultaneously to Sufi strains from folk Punjabi poetry and traditional South Indian folklore. That's why it was a rare treat to watch Navtej Johar; acclaimed Indian choreographer and yogi perform at the Alhamra Cultural Complex in Lahore.
The Rafi Peer Theatre Group, on a very short notice, arranged the event and yet the hall was packed to capacity.
Renowned classical dancer Naheed Siddiqui introduced Navtej by saying that he is "a saintly man far removed from any commercialism". She revealed how she got to know him better by doing workshops with Navtej and the duo have more of such plans in the making.
Navtej Johar introduced himself in Punjabi and English and described his immense love for Punjab since his parents hailed from this side of the land. He said, "Every place has a particular light and feel to it. When I first heard Potohari language I imagined its light and when I first went to Chakwal; my father's native town, I immediately felt that I belonged there.
It's like my weight balanced with the weight of the land. I have hence a great sense of belonging to Punjab." The yogi choreographer runs a studio in Delhi, which offers dance, yoga, meditation lessons and Himalayan retreats to people from all walks of life.
Navtej introduced his performance Fan'a: Ranjha Revisited that he had interspersed with three acts of the South Indian love story of Kutrala Kuravanji – about Shiva and Vasantvali. "I wanted to break some common notions with this performance, that many hold with regards to Punjab being devoid of culture," said Navtej, "there is a common misunderstanding in South and Central India, which is commonly understood to be more refined and cultured, that Punjabis are uncouth. Even many Punjabis quip to me, 'jee we have no culture… only agriculture!' This performance will give you a distinct imagery of a typical Punjabi music and expression which is steeped in culture."
"Also," he added, "For me, Heer and Ranjha, Shiva and Vasantvali are not heroes… they are archetypes. I have tried to show that the quest for love, its fulfillment and estrangement are universal emotions. These archetypes live in us. These are same plots and I call them the bookends of where I come from!"
His desire to blend Sufi, yogic, Karnatak, Punjabi and Bharatnatyam together was not an easy task. "When I got the Punjabi musicians and vocalists together with the Madrasi artistes, they initially sat in two corners of the room and didn't speak to each other," he related, "The Madrasis probably thought of the Punjabis as the uncultured lot who would not know a thing about music and etiquette and the Punjabis probably thought of their counterparts as the 'kaalay kaalay Madrasi' as inferior to them! Their judgmental mindset soon gave way to a beautiful understanding of oneness and now they perform internationally together."
The performance was indeed a subtle and profound blend of many polarities so to speak. There was Bharatnatyam over "pukka Punjabi music" – in the words of Navtej. There was contemporary music with traditional Karnatak. There was South India and Punjab fused into one seamlessly. There was yogic with Sufi and classical Indian together – as incredible as it sounds. The Punjabi vocals by Rekha Raj and Madan Gopal Singh (also the composer) were rousing and evocative and made the famous Heer (by Waris Shah) couplets a delight to hear.
The Karnatak lore was explained by Navtej in the beginning and hence was comprehensible in spite of the Tamil language. The Karnatak vocals and compositions were by G Elangovan.
Navtej and Anil Panchal together enthralled the audience and gave a glimpse into the distinct cultures of the two lands through subtle gestures; you could taste the rustic flavor of Punjab as Heer used her hands to argue with her mother, or beat herself up in sorrow, when she sprinkles rosewater on Ranjha as he arrives at her doorstep or when her mother wards evil spirits off Heer's forehead. Likewise, the South Indian culture was clearly distinct by the emphasis on the expressiveness of eyes and hands in communication.
A particularly trying moment was when the electricity snapped for a few moments right in the midst of a climactic scene.
Being true to their yogic bearing, the two sweat drenched performers stood silently in patience waiting for the music sequence to resume. At the end, the performers got a rousing applause and a standing ovation for presenting a truly innovative fusion of music, dance, thought and legend
Curtsey:DAWN.COM, PUBLISHED OCT 08, 2011
Jugni — whose creation?
Jugni, a popular Punjabi folk song sung for the last so many years again got fame and popularity after Arif Lohar, the son of late folk artist Aalam Lohar, presented it with modern composition. The other day Arif Lohar was questioned by a Karachi TV compere who first sang or who was the creator of this genre of folk song? Arif or for that matter most of our singers hardly know the history of music, particularly the branch of folksongs. Who originally sang song of Sammi? Nobody knows that. Same was the case of Jugni. Arif has heard it from his father and being an actor-singer of lok-theatre he also popularized it, therefore Arif was right when he said Jugni was originally composed and sung by his father Aalam Lohar. Arif is good and unassuming artist but we should not expect from him that he would go through the history of Punjabi folk poetry on which some substantive research work has been done in East Punjab. Incidentally, it were the non-Muslim writers and scholars who mainly worked in this field and most of their work has been published in English and Punjabi in Gurmukhi script. Deviande Satiarthhi and Ram Saran Das were two big names in this field. Ram Saran Das's Punjabi Lok Geet in Persian script was published from Lahore in early forties. He was a lawyer by profession who was the resident of Krishan Nagar. We should not expect from Arif that he has studied literature on folk songs. He saw that his father was a very successful in Jugni, which he very innocently dedicated to his father. Punjabi scholar Snawar Chadharr has contributed a research paper to Lahore weekly, Humshehri, in which he politely says that Jugni is also an old form, yet in our times Aalam was master of that. But the recent research shows that Jugni was also in the early 20th century and then in the second decade when Jallianwala tragedy was enacted by the British and the first time in the history of the subcontinent the civilian population of Punjab was made the target of strafing from air. Following are the Jugni lines recorded by the late Saleem Khan Gimmi:
Here the refrain-line does not include Allah Bismillah Meri Jugni. Here it is Bhai Meria Jugni Uoo… Sher Meria Jugni Uoo. Aalam Lohar's Jugni always had Allah Bismillah Meri Jugni. Chadharr refers to another scholar Karam Jeet Singh Oajala whose research appeared in daily "Punjabi Tribune", East Punjab, bearing date of Sept 24, 2005. Oajala with reference to the octogenarian persons says that they had heard Jugni in the first decade of the last century when the Golden Jubilee of the Queen was celebrated throughout India. There were two singer-poets Mahnda of Hasanpur in Amritsar district and his partner Bishna also from Majha area. They were folk singers and on the Jubilee they staged their show wherever in Punjab the Jubilee Torch travelled. They made the Jubilee a character through which they had showered praises on the British Queen and her rule. How the word Jubilee was changed with Jugni. According to Oajala, Mahnda and Bishnu turned against the British rule and now they criticized through their Jubilee giving it a new name of Jugni… Jubilee…and Jugni. The following lines have been attributed to Mahnda and Bishnu who were hauled up at Gujranwala when Jallianwala uprising flared up. It is said that both artists were killed by the police. This story needs to be substantiated by further research.
The late Afzal Parvez was perhaps a senior contemporary of Aalam Lohar. Writer and singer Afzal Parvez started his journey in the footsteps of Davinder Satiarthi and collected folk songs and scripts of lok theatre dramas (also published in a book form) in early 50s. He contributed his field research to the now defunct daily Imroze. It was almost totally original attempt and very soon a book was prepared which unfortunately published much later in early 70s with title Bann Phulwari and with the introduction by the late Faiz Ahmad Faiz. This was certainly an exhaustive study mainly related to Upper Sindh-Sagar Doab..Rawalpindi, Hazara and Azad Kashmir areas. In his opinion, Jugni was perhaps a character from folk story perhaps heroine of Jugni-Rawal… the later to whom name of Rawalpindi is associated. That proves that Jugni is also an old popular name of a folksong which provides a base for all those who have talent to compose more lines and add to that. Afzal Parvez's Jugni is sarcastic and it does not have the words Allah Bismillah.
(The dialect is Potohari plus Pahari and two words of same meanings..my..maharra and maindha, the former is used on the southern side of the GT Road near Rawalpindi and the latter on the northern side of the Road. * * * * **
In the latest issue (155) of Punjabi monthly, Savair International, senior fiction writer Husain Shahid narrates an incident that happened while he was conducting provincial assembly election in 1964-65 in the suburbs of Lahore. Actually he was referring to the elections of the Punjab assembly held in 1953-54 in Attock where fiction-writer Parveen Malik Awan's mother served as polling officer. She was serving as a teacher in that area. Rival candidates were from two warning groups of Awans and Khatarrs. Incidentally here the Awan candidate had an edge over the Khatarr. This was taken by the Khatarr school inspector as deliberate support extended by Awan teacher i.e. Parveen's mother who had to suffer for that. Husain Shahid was conducting election in which only BD members were the electoral college. He was in-charge of the polling station and during the polling a voter came to him and he secretively told him that so and so voter will come to cast not only his own ballot paper but he had six more ballot papers to cast. Husain says he targeted that person and searched his body. He had more papers duly certified and naturally all those were cancelled and the man was handed over to relevant authorities. After that candidate Malik Mairaj Khalid came and spent some time with Shahid without any reference to the bogus voting case.
After the election, Husain Shahid went to the district presiding officer where Mairaj Khalid was also present but as soon as Shahid took his seat Malik Sahib slipped and the officer (sessions judge) was told that Malik Sahib was full of complaints against Husain Shahid. That is how elections are won, the practice continues.
Curtsey:DAWN..COM, — PUBLISHED NOV 14, 2010
Tribute to Mansoor Malangi: the king of folk music
NABEEL ANWAR DHAKKU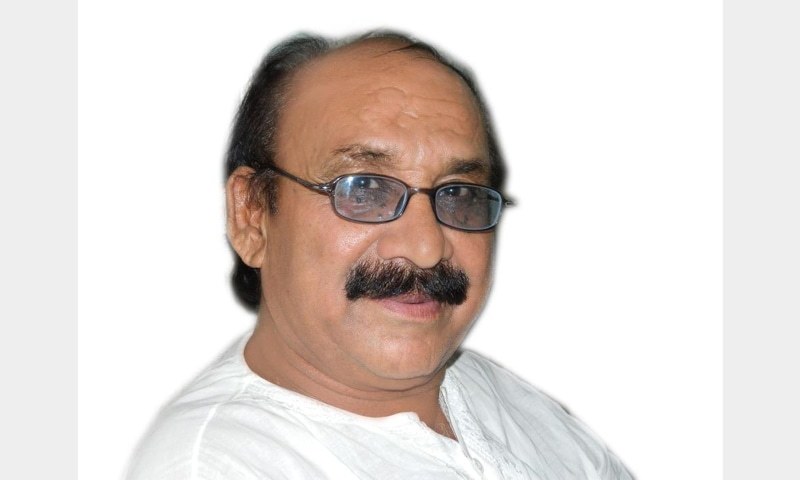 From the Thal desert to the lush green plains of central Punjab and the pluvial Potohar, his voice echoed from every nook and corner of Punjab. Through his inimitable style of singing, Mansoor Ali Malangi gave a unique touch to the folk music of Punjab, ruling over the hearts of thousands of Punjabi music lovers for four decades.

He passed away last December but the pathos and exceptional sweetness in his voice complemented by his immortal melodies will continue provide solace to his devoted listeners. His songs are still played over and over again on tractors ploughing the fields of Punjab, on trucks traversing national highways and on computers and cell phones, especially in Punjab.
Malangi's songs reflected the culture of Punjab. The lyrics captured the pain, suffering and longing of women who wait for the return of loved ones who are earning their livelihood away from home. In several songs, the woman is tearful and yearns for the return of her beloved. His epic song Koi rohi yaad karendi dhola, wal aa toon is a rendition of this heart wrenching situation. In a nod to folklore, the suffering of Sassi was featured in many of his songs.
Malangi was born on Jan 1, 1947 in Garh More village of District Jhang and named Mansoor Ali. His father Pathan Ali was a sarangi player so Malangi inherited this musical talent from his father. "I started singing from the age of seven", Malangi said in his last interview to a popular entertainment TV channel.
---
The singer who released over 200 audio albums is fondly remembered by countless fans
---
Malangi was only 18 when his first song was broadcast on Radio Pakistan Lahore in 1965. But the song Ik phull motiye da maar ke jaga sohniye previously sung by Kausar Malik, (a folk singer at Radio Pakistan Multan) shot Malangi to fame in 1974.
"It was the spell of Mansoor Malangi's voice that the song became an instant hit and every Punjabi was humming this song", claims Irshad Ali, a tabla master and Malangi's close friend who used to perform with him since 1973.
Malangi was a poet and a composer, weaving his personal experiences into his lyrics. In 1982, when he had an accident and was hospitalised, he came up with Surgeon puchhia duss Malangi ae chot kithon aai aye, a song that enthralled the audience at a PTV concert.
Malangi was a passionate lover and although his love was not unrequited, it took him to prison. His beloved, who eloped with him in the early years of Zia's regime, succumbed later to family pressure in court and told the judge that she was actually kidnapped by Malangi who was jailed for a month.
This experience, however, empowered Malangi's melodies with more pathos and he wrote the song Inaan sohniyan dil diyan choraan toon, taoba Maula bachaway, a beautiful narration of the situation which took him to jail.
On hearing about Malangi's death, famous folk singer Talib Hussain Dard said that Mansoor was not only the king of folk music, but was also a fine person.
According to Mushtaq Soofi, the eminent poet, writer, Punjabi scholar and chairman of the Punjab Adabi Board said, "After Tufail Niazi, Mansoor Malangi's was the sweetest singing voice of Punjab. He was naturally gifted with a crystal clear voice that haunts us with its overwhelming emotional power.
With an unparalleled command on sur, his singing was effortless, usually the hallmark of a great folk singer. He was comfortable both with studio recording as well as live concert, a quality rarely found among vocalists. He enthralled masses as well the connoisseurs."
Malangi had a special connection with Chakwal and he visited every year to perform in musical concerts and buy a pair of Kohati chappals made by Sajawal Khan of Hazro Kohati Chappal Makers, located in the heart of city on Talagang Road.
"He was the only Punjabi folk singer to have made the Punjabi dohra (quatrain) popular with a touch of humour, freshness and originality to the Punjabi mahiya (couplet)," said Professor Sada Hussain, the Head of English Department at Government Post Graduate College Chakwal.
"Malangi had power over Punjabi audiences, being the only singer from Central Punjab besides Attaullah to be popular in Potohar and Lahore as well. I cannot imagine a truck driver taking off on a long journey without Malangi's music.
"Mansoor had a variety in expression," said Sohail Abid, the man behind folkpunjab.com. Besides his greatest hits like Ik phull motiye da and Keri ghalti hoi aye zalim, he gave us many other marvellous songs like Balocha zalman and Mahi diyan nazan ton main lakh lakh var han.
Malangi also sang in Urdu and Sindhi. "He composed the famous ghazal by Mohsin Naqvi, woh jis ka naam bhi liya. Many tried to copy his compositions but in vain," said Professor Sada Hussain.
Malangi spent a humble life in his own village. "His land and culture was so dear to him that he could not think of settling down anywhere else," says his son Shahid Mansoor Malangi who is following in his late father's footsteps.
Malangi married thrice and left behind eleven sons and eight daughters. Malangi was awarded the Tamgha-i-Imtiaz in 2012.
"Sadly, he was misconstrued as a Saraiki singer whereas he was more like a minstrel of Punjab, a unique voice from Jhang, the land of Heer," says Soofi.
In his last TV interview in 2012, Malangi looked lost and depressed. When the host Farah Hussain asked him to sing a song of his own choice, Malangi sang, Zindgi da safar mukhtasar mukhtasar/ Main vee keetaa magar mukhtasar mukhtasar. Indeed, life is short.
Curtsey:DAWN.COM. Sunday Magazine, January 18th, 2015
Punjab folk artists win hearts of music lovers
ISLAMABAD: It was the Punjabi beat and soul music that filled the air and won the Lahore-based Malik Punjab Musical Group the hearts of music lovers in Islamabad on Saturday night.
Some members of the group had been students of the celebrated Punjabi folk singer Alam Lohar and performed with their great teacher as well.
Kuch Khaas provided the intimate backdrop and set the tone on the occasion. Group leader Malik Ghulam Mustafa and his friends and fans of Punjabi music experienced a few traditional Sufi tunes, percussions, bhangra beats and the likes.
Mustafa had played chimta (tongs) and sang with Alam Lohar for 15 years while Mangi Khan played harmonium at the maestro's performances.
After him, they formed their own group with the twin wind-blown Jori flute player Mohammad Ashraf and dhol (drum) players Ghulam Qamar and Mushtaq Hussain.
Their group has been performing for more than a decade and enjoying folk festivals in Punjab most.
The group was invited by the Institute for Preservation of Art and Culture (IPAC) to Islamabad and famous tabla player Mohammad Ajmal himself brought them to the capital to keep the Punjabi folk music alive.
The group delivered several compositions that were repositories of the Punjabi culture, beliefs, social structures and response to historical change.
"The Punjab folk music is about love, tales of lovers like Sassi Punu, Heer Ranjha and Sohni Mahiwal. It is about recognition of the past and respect as well as guidance to live a happy and fulfilling life," said Malik Ghulam Mustafa before taking to the stage.
The sincere love for his profession and a complete dedication to and passion for his craft
was obvious when Mustafa covered a broad vocal range in a well-paced manner and with an artistic aplomb of a seasoned performer.
He opened the show with his energetic and welcoming famous song Jugni.
And then he performed Yaran kolon yar gawacha, Mirza and Bhol miti de besides presenting the compositions of Waris Shah.
And the evening was topped off with Malik Mustafa's addictive bhangra steps to the
sharp tapping sounds of his chimta and the gusto and rhythm of Mushtaq Hussain's dhol beats.
The audience enjoyed Malik Mustafa and some of them appreciated Mushtaq Hussain.
"He is both elegant and mesmeric," Sharmeen Khan said, describing him as a thrilling improviser.
Curtsey:DAWN.COM , PUBLISHED FEB 10, 2014

Reflecting folk wisdom
NAEEM SADHU

Aakif Suri is among the young lot of painters trained in traditional miniature painting, but practising it by mixing their skills with contemporary concepts and visual elements. Aakif was born in 1982 in Dera Ghazi Khan to a banker. He was groomed up in an art friendly environment. While living at D G Khan, he enjoyed cultural diversity of people from various parts of Punjab and Balochistan.
Exposure to various accents of Punjabi language, interaction with the families settled in the neighbourhood from different parts of country had been a great fascination for him as a young child. It helped him understand various dialects and cultural shades of Pakistan, especially Punjab.
His father was good at handwriting, who encouraged him to write precisely. His mother practises woodwork, learnt from a vocational institute. Decorative products carved out of wood, embroidery and paintings done by his mother were the early sources of inspiration. Two of his uncles had studied architecture from the Mayo School of Arts, (now National College of Arts). During junior school days he used to make toys with dough and his mother used to bake them while cooking. She always encouraged his artistic expressions and advised him to go to Lahore and join the NCA to be a professional architect like her brothers.
He used to participate in art competitions and made over life size cartoon characters during his high school days. Inspired by one of his works, the DG Khan DPS principal offered him a job to teach art. Working there for one year gave him confidence to be a professional artist.
He was not interested to study mathematics which was required to study architecture and therefore he opted for Fine Arts and joined the NCA in 2003. He was a hardworking student doing commercial jobs to finance his studies. In the process he developed diversity in skills like illustrations, set designing and sculpture. He had learnt model making in the third year from product designer and renowned model maker Shehzad Ahmed.
He was confused during selection of the major subject, "printmaking was expensive and it was hard for me to afford. Always running away from print making, I was not interested in becoming a painter either".
"I was equally good at sculpture and miniature, so decided to select miniature. To work with patience and delicacy of miniature always attracted me".
"I had put a lot of hard work and learnt the techniques of making paper, brushes and paints for miniature painting. I used to be one of Ustad Bashir's favourite students," he recalls.
He kept on doing traditional academic works throughout his studies. Just before starting the final thesis project he visited Kot Mithan at the Urs of Khwaja Ghulam Farid. It was the turning point of his artistic journey. He documented all the pictorial history available and started reading poetry of Farid.
It inspired him to paint. He visually narrated his folk wisdom and rendered the landscape of Rohi with all the characters and symbols used by the poet while making a mural painting. "When I was about to finish I thought of including myself in it, so painted my own image and made the impression of a puzzle being watched by the artist". "To me poetry is so simple that one can have multi-dimentional aspects in meaning".
Aakif was very confused after finishing the thesis. It was the chaotic time right after 9/11. He started painting political subjects derived from the international political scene and the responses of local electronic media.
"As a student I loved to paint kings adoring himself, displaying the power and wealth, so selected the one with turban and use it as a symbol of power and prestige. I played with it to comment on present situation of power structure. I used to give sarcastic titles that add some punch to my visuals."
With a good number of group shows to his credit he is teaching for the last five years at Pakistan Institute of Fashion Design and various other art institutions.
Francis Bacon inspired him a lot, "To me his war imagery resembles to the war on terror and bloodshed we are going through."
"Human killings to dominate in power game sounds cannibalism to me. It moves me to paint and respond. Following in the western cultural traditions we are in chaos and confusion, I think one can understand others after a sound understanding of own roots."
He reads all kinds of literature but biographies and interviews remain his prime interest.
Recently he is working on a series of works in which he has painted white iconic objects in black by employing layers of various colours to show the destruction done by humans for gaining more power throughout the history.
"I use local, personal and indigenous images and repeatedly use self image to portray a continuous dialogue with myself. I feel myself inclined to the folk wisdom and mystic poetry. It is a motivation that evolves my visuals."
He gradually built his visuals in delicate details by applying and lifting water based colours on paper. They reflect his sound skills and keen observation.
Curtsey:DAWN.COM, PUBLISHED OCT 02, 2013
'Folk singers need government's attention'
NABEEL ANWAR DHAKKU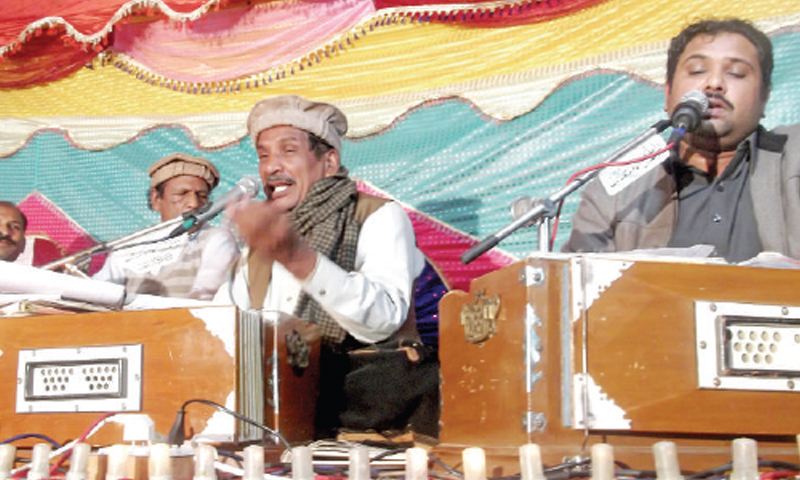 CHAKWAL: Folk singer Talib Hussain Dard is loved by people across Punjab, especially in the rural areas.
His song 'Assi maaray sarkaar tussi changay o' was a great hit and is considered to be a timeless tune.
Today, the beloved folk singer is disappointed by the Punjab government's attitude towards folk artists.
"Political leaders always say that folk singers are an asset of the nation but they never take any practical steps for their welfare. They do not even try to promote the art itself," he said.
Talib Hussain Dard was talking to Dawn at a musical performance organised at the Akwal village in Talagang tehsil.
"Folk music is the music of the people. It is an art form that is our identity but due to the callousness of our rulers, folk artists live and die quietly," he said.
He was referring to folk artists who have passed away such as Mansoor Ali Malangi and Mahar Ghulam Muhammad Dard.
"There was no singer like Mansoor. He was the sole king of folk music besides being a great human being. Mahar Ghulam Muhammad Dard penned down scores of dohras (quatrains), mahiyas (couplets) and songs.These two legends of folk music passed away quietly and not a single person from the government came to offer condolence," he regretted.
---
Singer Talib Hussain Dard says no steps have been taken for promotion of folk arts
---
Talib Hussain Dard who sings songs written by Mahar Ghulam Muhammad Dard was born in 1955 at Khanowana village in Jhang district which is also the district of Late Mansoor Malangi.
He started singing as a child and went to Lahore where he was taught music by the legendry classical singer, Ustad Salamat Ali Khan from the famous Sham Chorasi Gharana.
Ustad Salamat Ali Khan's influence still dominates Talib's songs as he sings folk music in a classical style with raag jog, behrvi and pahari.
"I added the word 'Dard' to my name because my favourite poet is Mahar Ghulam Muhammad", he said.
Talib frequently performs in Chakwal.
He is the most sought after folk singer for weddings and cultural festivals. Like Mansoor Ali Malangi he has given a new classical touch to Punjabi dohra and mahiya.
His son Imran Hussain Talib has also emerged as a talented singer who often accompanies his father in performances.
"Chakwal is like my home. I have performed more than 200 times just in Akwal village," he said.
Later both father and son kept the audience spellbound till late into the night.
The avid fans kept on requesting Talib to sing their favourite songs and dohras.
The audience was especially delighted with the performance of his famous 'Jo guzzar gai aye wah wah dilbar'.
Published in Dawn December 22th , 2014
A beloved folk story comes to life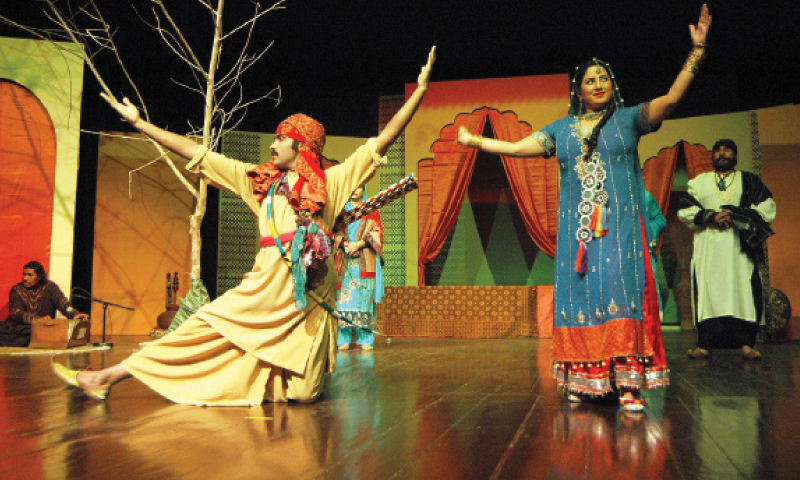 A scene from Mirza Sahiban staged at PNCA in Islamabad. — Photo by Ishaque Chaudhry
ISLAMABAD: Pakistan Theatre's performance of Mirza Sahiban at Pakistan National Council of Arts (PNCA) on Saturday night swept the audience in the romance of a centuries' old love story.
The musical brought to life Mirza Sahiban, one of Punjab's most popular folk stories. Audience members found themselves transported to a time when Mughal rulers reigned over Punjab.
They swayed with the music, feasted on the colourful costumes, laughed with the humorous Punjabi one-liners and then wept at the tragic end.
A strong cast brought the story alive with emotive performances. Laila Malik gave an exquisite performance as Sahiban, dancing to Bhangra sequences and delivering moving Punjabi dialogues.
Fazal Jatt's son, Sher Ashiq Jatt, played the role of Mirza equally well.
"This is one of the best performances I have seen in Islamabad," said Waqas Qureshi, a member of the audience.
Other audience members shared the view and expressed hopes that more such plays will come to the PNCA in the future.
The production was an attempt to revive dramatic folkloric theatre where a 'ravi' or storyteller narrates and sings the script, a role that was performed by Fazal Ashiq Jatt in Saturday's performance.
"This performance was an experiment to see how theatergoers respond to a unique and ancient style of theatre. And who better to request to perform than Fazal Ashiq Jatt and his team who have been doing this for nearly 100 years," said PNCA Director Publications Waqar Hanif.
Fazal Ashiq Jatt established Pakistan Theatre in 1950.
Waqar Hanif said Fazal's father Ashiq Jatt, was among the pioneers in folkloric theatre performing it as early as 1922.
Mr Hanif explained that folk performances were the hallmark of rural carnivals and celebrations like Chanan Pir and Data Sahib Melas which are rarely celebrated today.
"But be assured that there will be more such performances in the future," he said. He lamented that this style of theatre has lost popularity, especially amongst the urban classes, who now prefer television soaps.
Published in Dawn, January 11th, 2015

A folklorist from Sialkot
By Shafqat Tanvir Mirza
WHAT are the favourite subjects with the literary magazines in Punjabi published from Lahore and elsewhere?
Punjabi folk literature has always interested many scholars, including Richard Temple and Rose with Skemp did a lot of work in this field. It was under the influence of the officers-cum-researchers in the Raj that a Lahore-based lawyer, Ram Saran Das collected folk songs from central and southern Punjab to be followed by the famous Urdu short-story writer Devinder Sathiarthi. Syed Sibtul Hasan Zaigham has contributed a piece on another folklorist Vanjara Bedi's death to the monthly Lehran's October issue. Bedi died in August this year in Delhi where he had settled after migrating from west Punjab in 1947.
Born in 1924 at Sialkot, Prof Dr Sohinder Singh Vanjara Bedi had developed deep interest in folklore just after partition when he shifted to Delhi. He felt the need to preserve the folk heritage of the Punjab which was being neglected by the Punjabis themselves. Accordingly, he started writing an encyclopaedia on Punjabi folklore. The job was too big but the non-Muslim Punjabi refugees found weight in Vanjara's argument that if the folk heritage of the Punjab was not preserved, it would disappear altogether. Bedi successfully contacted the refugees from Potohar, Jhelum, Gujrat and Mandi Bahauddin. He himself was well-versed in the folk tradition and collected invaluable material in book form but no publisher was ready to publish it. Bedi himself published the first four volumes of the encyclopaedia from Delhi. The job had been completed in 1978 when Zaigham visited Delhi in connection with the urs of Amir Khusro and first met Dr Bedi at the Delhi Dayal Singh College where he was a teacher.
Undaunted by the difficulties in his way, Dr Bedi carried on his job and a Potohari publisher in Delhi who happened to be a friend, published the next four volumes. Before his death, his publisher, Payara Singh Data, published two more volumes so that now the encyclopaedia comprises ten volumes.
In Pakistan, no such work has yet been undertaken by any individual or institution because we do not have the necessary resources. Some writers attempted similar work but found the conditions most unfavourable. One of them was the late Afzal Parvez from Rawalpindi who first collected the folk songs of the Potohar area. For a very long time, he could not get them published because neither private publishers nor any government-aided organizations were in favour of such an enterprise. The second was Dr Mehr Abdul Haq from Muzaffargarh who collected some folk songs from the Seraiki belt. Both books were first serialized by the daily Imroze which ceased publication some years ago. Later, some other writers made some contribution in this field but they were not of much significance. Towards the fag end of his life, Afzal Parvez had prepared a folk encyclopaedia of Potohar for the Lok Virsa. Unfortunately, Lok Virsa has abandoned the job and the work has yet to be published.
An article on folk-songs on marriage ceremonies has appeared in the current issue of the monthly Varolay from Gujrat. The author, Baba Muhammad Shafi Zargar, has collected many folk songs of which some have a local touch.
In the same magazine, there is another article about the folk songs related to Sawan, the rainy season. There are two articles about the Punjabi language and its current educational and cultural status are also included. They are by Manzar Farani from Faisalabad and Tasleemullah Jandran from Mandi Bahauddin.
The Savair International from Lahore carries perhaps the last episode on the Harappa civilization by Iqtidar Karamt Cheema. This part of the article deals with the decay of the Harappan civilization about which no final verdict has so far been given. Most scholars are of the view that the Aryans destroyed the Harappa civilization under which fell Moenjodaro and Ganveriwala in the Cholistan desert. This may or may no be so but now Punjabi writers are showing greater interest in their cultural roots and Cheema's article is in the same direction.
The current issue of the magazine carries an interview with the well-known fiction writer, Farkhanda Lodhi, who started her literary career as an Urdu short story writer and now says that she writes in Punjabi with much greater ease. She is convinced that punjabi gives a freer hand than Urdu. She thinks that after the creation of Pakistan, the purposes of this great movement have been totally sidelined. She calls it the death of a romance. The interview with Ms Farkhanda Lodhi was in English. It was translated in Punjabi by Jamil Ahmad Paul.
The monthly Pancham from Lahore carries three poems by the famous Urdu and Punjabi fiction writer and critic, Kartar Singh Duggal, who had migrated to India from Dhamial (Rawalpindi). One of his poems Potohar, bemoans the loss of his roots:
Potohar heh naan ik jannat da,
Sohan naddi us vich wehndi heh,
Laam toan murria dhol vaikh kay,
Akh jivain koi cho paindi heh.
For Duggal, Potohar is a paradise where the Soan river is like a woman's tears who is extremely happy over the return of her beloved from war.
Curtsey:DAWN.COM, PUBLISHED OCT 23, 2001
Heer Ranjha, Umar Marvi puppet show hit by mismanagement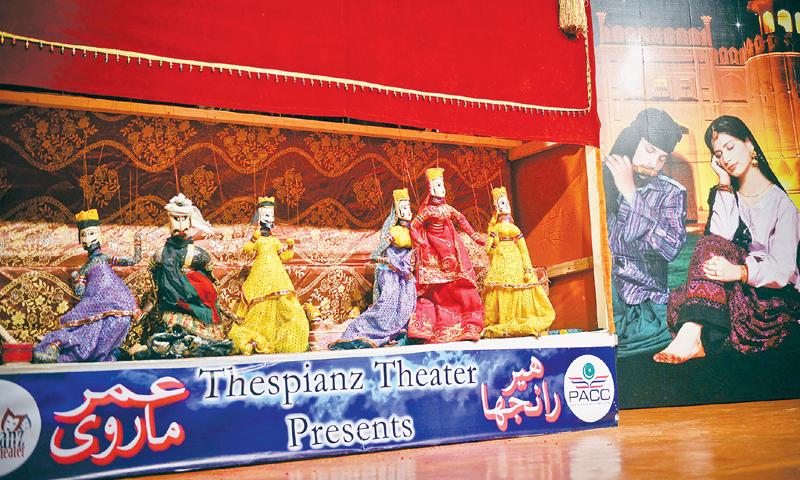 A scene from the puppet show.—White Star
KARACHI: The historical and cultural importance of string puppetry as a means of narration and entertainment cannot be stressed enough. In a time before man even considered enacting onstage in front of an audience, string puppetry has delighted audiences. It has been said to have originated in as early as 2000 BC Egypt, practised in Ancient Greece where it was also known as marionettes and became a rage in Rajashtan in India, where it was known as the kathputli. And so, with the promise to take us back centuries, Thespianz Theatre, in collaboration with the PACC, hosted a puppet theatre that brought to an eager audience beloved folk tales from Sindh and Punjab.
However, despite the many selling points of the collaboration, with the added feature of targeting children, a demographic rampantly ignored in most cultural collaborations, the event could almost have been labelled a disaster.
Thankfully, the storytelling salvaged the night and of course the commendable performances by the puppeteers. Bad management, over-enthusiastic photographers, more than a dozen by my count in the PACC's auditorium, who indulged in flash photography in the midst of the show, threatening to spoil the enjoyment of many. This was an unexpected intrusion, considering that many of PACC's events are smooth sailing, without cameras being shoved into one's face.
Moving on to the show itself, string puppetry, with its colourful backdrops and vibrant costumes, is the perfect medium to narrate folk tales. The folk tale Umar Marvi, among the various tragic romances from Sindh, set the tone of the show by narrating the story of Marvi, whose beauty has become a legend in her surrounding villages. Immortalising her tumultuous love for the young Khit, the performance tied their relationship with the backdrop of the deserts of Sindh. Fate brings them together, and fate tears them apart. And the desolation they feel at the loss of their beloved was represented also through Sindhi folk songs that are laments to their lost love. Towards the end, the characters indulge in the whirling dervish dance which is impeccably performed, considering that the strings used to manipulate the puppets can easily get tangled. Umar Marvi's tale has been immortalised in the poetry of Shah Latif and to see these multiple mediums of storytelling, poetry, music and string puppetry come together was surreal.
Director Faisal Malik, who has enjoyed a promising career in the performing arts industry, then introduced the next tale that took the audience through the plains of Punjab to Jhang, the town that gave us the legendary love story of Heer and Ranjha, immortalised by another saint-poet, Waris Shah.
Many classic and contemporary love songs were used to convey the passion and love between the two main characters. Some of the props used in the story were unfortunately not up to mark and needed some work.
However, the audience must be commended for being very appreciative of this art form, despite a lack of knowledge behind its mechanics. Such encouragement can easily pave the way for more such performances to be held with more attention paid to intricacies of the theatrical rendition that has the potential to attract a large audience.
Published in Dawn, September 22nd, 2014
Harking back: Origin of the folk songs 'Nanni Apo' sang
MAJID SHEIKH

My late mother-in-law, known to one and all as 'Nanni Apo', used to sing a lullaby to my daughters. They loved it immensely. It went like this: "Tootaya, mann motaya, uss gali no jaa, Us gali daay Jatt pharay landay phaiyan paa". (Parrot, oh dear parrot, do not go to that lane, surely the crafty Jats will overwhelm you with charm).
One day I asked her where she had heard it from. "My 'nanni' who had heard it from her 'nanni'". But who wrote it originally, asked my elder daughter. "I have no idea, but people say it belonged to an age before even Sanskrit". What an amazing reply. I informed her that this was not possible. "Well, believe what you like, but this is what we had heard from elders," she closed the matter.
Surely this folk song has been with us over the ages and is a delightful verse sung by our women to tease friends. The framework of the parrot telling a new story emerging from the one the night before covered an ageless timeframe. Last month as I was researching the life of probably the oldest Lahore poet, Masud Sa'ad Salman, who was imprisoned by Mahmud Ghazni and taken to Afghanistan, he mentions the fact that of all the classics ever written, few can match the sweep and imagery of 'Kitab Alif Laila wah Laila', or 'A Thousand and One Nights'. It is classic full of all the elements that make life so livable. But then he mentions that there is "a tale within the tales" itself.
The world came to know this classic as having Arab origins, with a dispute over whether it was Syrian or Egyptians. But for the first time Masud claimed that the framework was copied from that the ancient Indus Valley classic 'Suka-Saptati' ('Seventy Tales of a Parrot'), for it had been translated into both Arabic and Persian. Each story started by a beautiful princess in conversation with her parrot, and that the bird kept warning her of the dangers of her wish to meet her lover.
In that collection was the story of a Sindh River pirate, who was called 'Sindhbad Jahazran'. The Egyptian writer Masudi, writing in 951 AD, had attributed this famous story as being part of 'Kitab-e-Sindbad', a collection of stories brought from India and all connected to adventures on the River Sindh (Indus). Both mentioned the same Indian or Indus source.
But what about the great 'Suka-Saptati'? There are surely several versions of this epic translated from the original Sanskrit, which one version claims as having been written before the Sanskrit language came into being. Sanskrit has its origin, primarily, in the ancient Punjabi spoken in the Indus Valley, as well as in other ancient languages of the various peoples of the Indus Valley and of Kashmir, and that its evolution, and preservation in script, is because of the Brahmin classes of the subcontinent. The undecipherable Indus script must also have played a role in its evolution, for in this great language our greatest ancient classics have been written.
But first let me locate where this was written. No clear writer's name appears on the oldest versions available. Such epics, with an oral background, evolve over time. This is so because it is partly in Sanskrit and partly in Prakrit. This is much like the legendary folk tale of Heer and her Ranjha. In relative recent times Damador Das Arora of Jhang and much later Syed Waris Shah of Jandiala in Sheikhupura were to produce two classic versions. Other versions extolling Hindu and Sikh religious symbols are also there. But then this epic flowed from the earlier story of Krishna and his flute. The resemblance is uncanny.
So it was with 'Suka-Saptati', written very much in the land between the Beas and the Indus, the land in which Hinduism was born. It was, therefore, a classic Indus Valley product. Now back to the parrot. This is the very framework that was used in 'Alif Laila' which revolved around the suspicious king Shahryar and his beautiful wife Shahrerazade, who told her king a countless series of stories so as to survive.
In the story of Sindbad there comes a time when he confronts the deity Agni in a river that 'flows fastest'. This, experts believe, is a reference to Indra the goddess of Iravati (Ravi). But surely the rivers of Punjab are where this legend was created. The Persian translation 'Sindhibad Nameh' is clearly Indus Valley in every respect. The story of the mongoose in another Sanskrit epic 'Pancatantra' is part of a 'Thousand and One Nights', which shows the origins of this great epic.
Great literature cannot be confined within geographic boundaries, just as the verses of Pablo Neruda are very much Pakistani as they are Chilean. The ancient literature that was nurtured along the rivers of Punjab need to be revived in Pakistan, even though we are averse to trying to understand our own land before the Afghans invaded, not that they have stopped.
You might be wondering just why I am harping away on our 'deliberately forgotten' past. There is a reason which I wish you to share with each other. The last time I visited the Punjab Public Library, I found rare Sanskrit book lying on the floor, as were other rare books. A group of friends offered to assist in cash, kind and free expert advice. No reply still.
Then I visited the immensely important Punjab Records, the largest archives after the British Museum Library collection, which is dumped in a dilapidated horse stable. We tried to assist. No reply. False promises followed. Is our heritage, like our walled city, destined to decay, eventually to get lost.
I can see in my mind's eye my daughter's 'Nanni Apo', smiling behind her half-dupatta hidden face, cheering the new generation to do something. Her songs belong to an oral tradition, which with the disappearance of joint families will also be lost. Surely all is not lost?
Published in Dawn, Aug 3rd, 2014
Search on for 'Icon of Punjab' voice
SHOAIB AHMED

The Lahore Arts Council has for the first time announced a Punjab level singing competition in search of 'Icon of Punjab'. Alhamra is gearing up to select the best voice from Punjab to be introduced nationally and internationally.The competition to be organized by the end of this month is being advertised all over Punjab through print media. The LAC specifies 16 to 30 age limit to qualify for the competition.
"This mega singing competition will open up new vistas for the council which will help emerge the immense talent the Punjab has in the field of singing", LAC Deputy Director Programmes Zulfiqar Ali Zulfi said.
A large number of singers from all over Punjab are expected to take part in the week long auditions. The semi-final and the final will be two mega evenings of the competition.
At least 30 best voices will be selected for the semi-final and half of them for the final competition. The winner of the final will be awarded the title of 'Icon of Punjab', apart from Rs100,000 cash prize and a trophy.
The winner will be trained through skilled singers and the council will launch his/her album countrywide after one year.
It is still not decided which TV channel will record the semi-final and final of the Icon of Punjab competition.
The jury of the mega singing competition will include music directors, music critics and singers, both classical and folk.
There is much enthusiasm in Alhamra these days in connection with this mega event as special stickers and big hoardings are being prepared. Huge photographs of Pakistans iconic singers have also been ordered to put on display at the event.
---
Pakistans leading music artist, Rahat Fateh Ali Khan, has released a unique song to pay tribute to martyrs of the 1965 war on the eve of the Defence Day.
The nationalistic melody titled "Khuda Raakhay" aims at igniting feelings of patriotism and fond remembrance for martyrs who rendered their lives for the defence of their homeland in the 1965 war.
The official music video is a visual tribute to the Pakistani heroes; the resilient Pakistanis, who have demonstrated unparalleled courage in the face of insurmountable odds in all arenas, be it in the stadium or on the battlefield.
The video features a montage of memorable moments from Pakistans history and footage of its scenic vistas, acknowledging the tremendous sacrifice that our nation's heroes rendered for the beauty and heritage of their country.
The track was composed and vocalised by Rahat Fateh Ali Khan, with lyrics by Haider Khursheed. The song was recorded and mixed at RFAK Studio.
Speaking about the new anthem, Rahat said: "My heart goes out to our brothers and sisters in the armed forces who dedicate their entire lives to the defense of our homeland so that the rest of us may sleep safer at night.
The 1965 war is testament to the unwavering resolve of the Pakistani armed forces who gave the ultimate sacrifice for their countrymen. As the next generation of Pakistanis it is our mandate to keep their memories alive so that their feats of heroism are never forgotten.
"Khuda Raakhay" is just a humble tribute to the memory of our martyrs, who may not be with us today but will always be immortal in our hearts and minds."
---
The 10 divisional arts councils under the umbrella of the Punjab Council of Arts celebrated the Defence Day with great zeal and fervor.
The arts councils of Multan, Sargodha, Bahawalpur, Dera Ghazi Khan, Gujranwala, Rawalpindi and Murree organized different programmes to pay rich tributes to the armed forces.
The council is about to launch a weekly musical evening at the Open Air Stadium of Bagh-e-Jinnah in which both seasoned and amateur singers will perform.
The council will also invite music societies of different colleges and universities to take part in the weekly musical evenings at the Open Air Theatre.
Curtsey:;DAWN.COM
The art of Shehnai
NABEEL ANWAR DHAKKU


CHAKWAL, Dec 31: A local Shehnai artist is gaining international and local acclaim as his videos are now available on YouTube and members of his troupe have performed in Coke studio.
And it is all because Liaquat Ali, 44, has chosen to play the long-wooded instrument called Shehnai, a wind instrument which is a cross between a clarinet and a bagpipe.
Shehnai connects Pakistani music to India and Iran. From a distance Shenai might look like one of those wind instruments used by snake charmers but the long-wooded instrument has a class of its own.
World famous Ustad Bismillah Khan, known as the King of Shehnai who by his profound dexterity made the Shehnai immortal, had once remarked: "Even if the world ends, the music will still survive". Liaquat Ali seems to be keeping the legacy of Ustad Bismillah Khan alive in Pakistan, according to one local admirer.
Born in a small hamlet called Dhoke Hassu, some 20km away from Chakwal city, at the house of Late Mohammad Nawaz alias Baaj Khan, who was not only a great Shehnai master but was quite adroit on the Dhol (drum).
Like father like son, Liaquat Ali fell in love with his father's art in an early age. He started playing Shehnai when he was a teenager.
When Gujrat's famous Shehnai Master, the late Ustad Rehmat Ali came to Chakwal, the father requested the master to instruct his son in the ancient art.
Thus Liaquat Ali became the pupil of the legendry Shehnai Master from Gang Channar village of Gujrat, who moulded Liaquat into a great artist.
Liaquat Ali is also an integral member of Five Star Musical Group which consists of Chakwal's famous folk singers Munir Hussain and Company, who recently mesmerised viewers at the set of Coke Studio.
Liaquat along with his team remains busy in rehearsals throughout the day in his office, near Tehsil Chowk. Songs by Noor Jahan and Ghulam Ali are among his favourites.
"I love my mother tongue and my culture that's why I feel glad when I play Punjabi songs on Shehnai", he said.
Plus Liaquat has to keep himself updated with the latest developments in contemporary music because at weddings he has to play music requested by guests.
"If a Shehnai master can't play the music requested by the organisers or audiences, he doesn't have the right to call himself a Shehnai master", maintained Liaquat.
Besides contemporary music, Liaquat is also a great fan of Punjabi folk music. "My aim is to keep alive and promote the culture of my beloved Punjab through Shehnai", he resolved.
But Liaquat like most regional musicians is upset with the apathy that the government has shown towards traditional music.
"Our rulers are doing nothing for the promotion and preserving of our rich culture and the artists here need state patronage — financial assistance — to make ends meet," he complained.
Curtsey:DAWN.COM
Musicals:'Gudiyab Patolay'portrays fold Punjab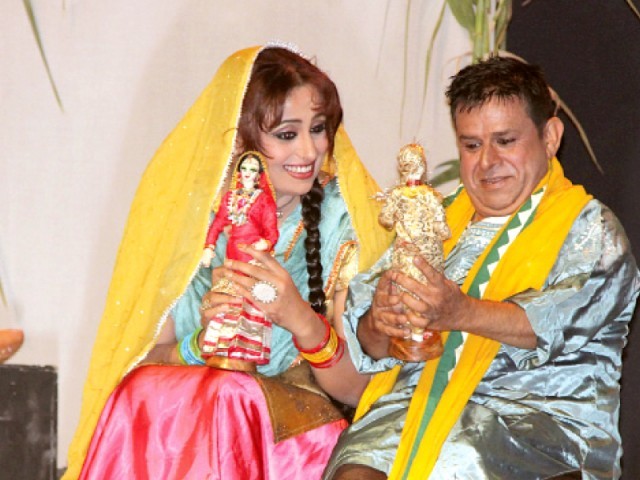 The play depicts a dysfunctional family trying to make ends meet. PHOTO: MUHAMMAD JAVAID/EXPRESS

ISLAMABAD:
Imbued with realistic and poignant themes, "Gudiyan Patolay" was staged at the Pakistan National Council of the Arts (PNCA) auditorium on Wednesday evening.
The play was written by Aslam Mughal and directed by Waqar Azeem. Mughal said his attempt was to stay close to the roots and portray the local culture of Punjab with the intention of keeping it alive in the hearts and minds of the audience.
The play revolves around a gypsy family that lives under a railway bridge. The family lives in a humble abode, unaware or unfazed by the hustle and bustle of city life.
Dolari, the lead character, was a young and beautiful girl. She lives with her aging parents and her mentally-challenged brother. The family is a quintessential depiction of a dysfunctional family trying to make ends meet with what little they have.
Dolari sells clay horses made by her mother. One day she tries to sell them at a nearby village but comes to discover that people are no longer interested in buying handmade dolls or toys. Her handmade dolls did not stand a chance against the social media or other 21st century toys that urban children's lives revolve around.
Dolari likes to hold pretend wedding ceremonies with her handmade dolls, with popular musicals showcasing traditional dances on songs such as, "Mehndi ni mehndi," "Desan da raja" and "Chandni raatein."
Later, Dolari's brother Shaka is throwing stones at passing trains, one of which happen to hit a passerby named Taimur. Dazed and confused, Taimur stumbles upon Dolari, and falls in love at first sight.
Taimur later proposes to Dolari, but is left heartbroken after learning she is already engaged. Her fiancé, Feroz, witnesses the entire interaction and makes a veiled threat to both in case she ever betrays him.
Meanwhile, Taimur manages to persuade Dolari's family. But on the day of their wedding, Feroz breaks the dam over the bridge in a fit of rage.
As a result, the family is washed away by strong currents of water. By the time Taimur arrives at the scene, Dolari is already dead.
Nasir Masih's choreography hit home with its strong appreciation of the rich culture depicted on stage, a sentiment echoed by attendees Anusha and Iqra from Rawalpindi, who said that they thoroughly enjoyed the show, particularly the dance sequences, situational lighting and the sound effects.
Published in The Express Tribune, June 27th, 2014.

My late mother was an unsung film critic and a devoted K L Saigol fan. As a young woman in the 1930s, she along with her cousins (chaperoned by my grandmother) would rarely miss these classics. Her collection of 78 RPM records featuring Saigol, Pankhaj Malik, K C Dey, Kanan Bala and other celebrity singers of the era was a family treasure till the 1980s, when an unfortunate accident caused their total loss. There was one K L Saigol movie that was amongst her favorites – this film was titled 'Street Singer', wherein the hero appeared cradling a 'harmonium' and singing in the streets to eke a living.

Street singing is a vocation that has been in practice all over the world since centuries. In the Sub Continent this form of entertainment manifested itself in both rural and urban environments. I remember a pair of blind individuals, who visited our house in Lahore on a regular basis. Their arrival would be heralded by the sound of a Sarangi and soon after a melodious voice rendering religious lyrics. The performing duo would stand in the shade of the 'Dharaik' tree on our drive and were soon rewarded with a small crowd of listeners consisting of youngsters from neighboring houses. I now think that had the two artists been given an opportunity on a radio program of the time, they would have made their mark as folk and devotional singers.

It was during a wedding reception in Bahawalpur, somewhere in the 1970s, that I saw a gaggle of women gaily clad in 'chunris', barge their way into the marquee. The group was accompanied by two musicians, one of whom carried a 'dholak', while the other was lugging a 'harmonium'. Without wasting any time and in spite of repeated requests to leave, the 'band' began a performance that turned out to be memorable. Though their lyrics were largely incomprehensible to me, their cadence and beat had a mesmerizing effect on the listeners. Sure enough, fifteen minutes and four renditions later, the group left with a respectable amount of cash in their purses. I later came to know that the females and their male companions hailed from Cholistan and gave public performances like the one I had just witnessed to earn their living.

There was a time, when no 'mela' was complete without its minstrels whose repertoire included ballads of love and romance. Regretfully these performers are on their way to extinction along with the rural festivals of my childhood. I have however received the good news that the art of ballad singing is alive and well in Khyber Pakhtunkhwa and Balochistan. Perhaps one of these days I shall ask an old Pashtun pal of mine to invite me to a traditional 'Hujra', which I believe is a venue for such performances.
I must also pay tribute to some vocalists, who if not acceptable in the street singing genre must be included therein peripherally. These were the travelling vendors, who marketed their products in song. Anwar Masood, the celebrated Punjabi poet (of incomparable wit) has ably described his encounter with one such individual, when his bus stopped at the old Jhelum Bridge. A similar character ruled the Anarkali Bazaar in Lahore selling 'Chana Jor Garam' and his hit lyric went something like "Mera Chana bara hi aala, isko khae Madhubala, Nargis lagay hai iski khala – Chana Jor Garam Baboo, mulayam mazedar, chana jor garam".

I cannot sign off this week's column without mentioning the unforgettable character that once roamed the roads around Company Bagh in the Cantonment Area of Multan. Dressed in grubby western clothes, a cigarette perched between his lips, the man insisted on accosting total strangers in 'Yinglish'. If one happened to respond, he would act as if he had met a long lost friend. This was the time to flee the spot, for if one did not do so, then a hand would latch on to one's dress to be followed by a back to back performance of a series of Saigol songs, delivered to rouse the dead.

The writer belongs to a very old and established family of the Walled City. His forte is the study of History.
Curtsey:The Nation,February,02,2014
Lok Virsa museum – an insight into culture and tradition
BY ASMA KUNDI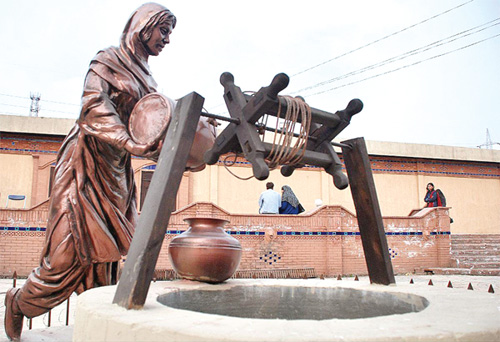 The Lok Virsa Folk Heritage Museum at Shakarparian offers an enchanting journey spanning from the neolithic cultures of South Asia to the present day folk heritage and traditions of Pakistan. One can traverse through several thousand years of history in the space of a walk through the extensive corridors of the museum.
The museum shows the evolution of culture and tradition through the ages, accounting for most of the cultural changes and influences along the way. Every gallery of the museum imparts the essence of a bygone era, replete with the traditions, costumes, jewellery and folklore, and ending with depictions of the present folk heritage of the four provinces of Pakistan. Passing through the gallery called 'Pottery through the ages' one sees ancient pottery from thousands of years ago, including artifacts such as cooking stoves and pots, pitchers, plates, and grain containers etc. In the Balochistan gallery, one can almost experience life in rural Balochistan as the mud and stone houses have been recreated and populated with dummy men and women wearing traditional Balochi garb and adornments. These 'people' are depicted indulging in different everyday activities, for example a garden hut houses a dummy story teller entertaining listeners, while a Saroz player plucks the strings of a rubab. To add to the environment, Balochi music is played in the galley.
Folk romances stories like Heer-Ranjha, Sohni Mahiwal and Dhola-Maro etc., which have been passed down the generations through poets and story tellers are also portrayed three dimensionally in one of the galleries, with the origins and details of the stories written out on display boards. During Pakistan Today's visit to this gallery, the Punjabi song 'sun vanjli di mithri taan vey' played in the background, infusing the environment with a bittersweet aura.
One of the galleries is dedicated to architecture and wood-work and displays beautiful calligraphy on glass, marble and on wood, while another takes one from the streets of Moenjodaro to the atmosphere of present day rural Sindh.
The shrine culture of South Asia is also paid homage to with small scale recreations of several shrines, complete with small shops selling knick knacks and pigeons dotting the area. Another gallery is dedicated to music and displays the hundreds of different musical instruments played in Pakistan along with the history and classification of each. Cultural influences from China, Iran and Central Asia are also accounted for through separate galleries, and the museum also houses a 'Reading Room' which contains extensive reading material.
A shopkeeper in the museum, Sohail Asghar told Pakistan Today that he has had his shop in the museum for two years and a large number of people from different parts of the country come to visit. He said that his sells decoration pieces and that his daily sale amounts to approximately Rs1500.
A visitor, Shamsa- a house wife from Multan, said, "Islamabad is so beautiful and people living here are very lucky as this museum represents the culture of all four provinces, it is like being able to visit these places while still being in Islamabad." Shamsa's children told Pakistan Today, "We had heard a lot about the heritage museum, this time we decided to visit and we are enjoying very much as we are learning so much about the culture and tradition of the four provinces of Pakistan."
Curtsey:Pakistan Today, JULY 25, 2011
Zinda Bhaag's folklore delves into the roots of Punjabi folklore
With all the matkas and dholaks hitting the right spots, Sahir Ali Bagga returns more convincingly with the soundtrack of Zinda Bhaag, after a rather lukewarm effort in the Ishq Khuda music album. He seems more focused and operates in his comfort zone of Punjabi folk garnished with club music and qawalli. The 34-minute album comprises seven songs, all composed by Sahir Ali Bagga, except for Pani Da Bulbula, a remix of a song originally written by Yaqub Atif Bulbula.

There are three dimensions to this album; in the first, Bagga persuasively reincarnates the brilliance of AR Rahman through the grand and uplifting treatment of Dekhein Ge. Not only that, Mohammad Hanif also provides a pertinent social commentary through his lyrics in Dekhein Ge. Bagga has also found our own parallel of Sukhwinder Singh in the voice of Jabar Abbas, whose treatment of scales is so similar to that of Singh's, it's difficult to differentiate between the two.
In the second dimension, Bagga tilts to the more Vishal Bharadwaj side of his influences. With all due respect to the quirkiness of the melody and colloquial lyrics, Kuri Yes Aai is one track you can't help but compare to Bharadwaj's recent hit Totay Urr Gaye from Ek Thi Dayyan. The interesting choice of instruments, such as a heavy base line topped with a pinching use of Shehnais, Kuri Yes Aai can be termed as a very catchy tribute to Bharadwaj by Bagga.
The third, and by far the most dynamic dimension of the album, is where Bagga serves us his own rendition of contemporary Punjabi music. The best sound track of the album is a high on adrenaline, but soothing qawalli called Pata Yaar Da, penned beautifully in Punjabi by Hasan Mujtaba, and rendered to perfection by none other than Rahat Fateh Ali Khan. After Garaj Baras in Coke Studio Season 1, this is perhaps the most effective use of Rahat in recent times. Rahat's strength in qawalli has been eclipsed by the rather half-hearted use of his voice in the semi-classical and often pop melodies of Bollywood.
For fans of Punjabi poetry, the use of metaphors in this song will give you goose bumps, and above all, a very different take on longing for your beloved. The second best is undeniably, the larger than life folk tune Paar Chanaa Dae, the grandeur of which will take you into another universe, due to the entrance of a deadly combination of flutes and matkas. Apart from picking one of the most underrated, but immersive pieces of folk poetry, Bagga brings forward the raw voice of Saleema Jawad, along with Arif Lohar. Pani Da Bulbula is one Punjabi classic that has been reinvented by a number of different artists such as Yaqub Atif and Saira Naseem, to name a few.
Every time it's been revisited, it leaves an entirely different smile on your face. The composition remains the same, but Bagga has given it a more contemporary arrangement, while remaining in the realm of Pakistani film music. Saari Saari Raat and Taariyan, however, don't match the kind of innovation Bagga has put into the rest of the album.
To compile a music album for a film, especially in times when no one's taking the medium seriously, means it's essential for producers and composers to get the right people. The attention to detail is where Zinda Bhaag surpasses expectations. It's been a while since we've seen genuine artists at work, and not the likes of Meesha Shafi, who for some odd reason has become the emblem of Punjabi folk in Pakistan.
Be it the voices of Saleema Jawad or Jabar Abbas, or the piercing lyrics by Mohammad Hanif or Hasan Mujtaba, the choice of artists is what makes the album of Zinda Bhaag an entire constellation, and not just a star or two wandering somewhere in space.
Curtsey: Pakistan Today, SEPTEMBER 1, 2013